Our landscape in oil paints – En plein air (two-day workshop)
13th May 2021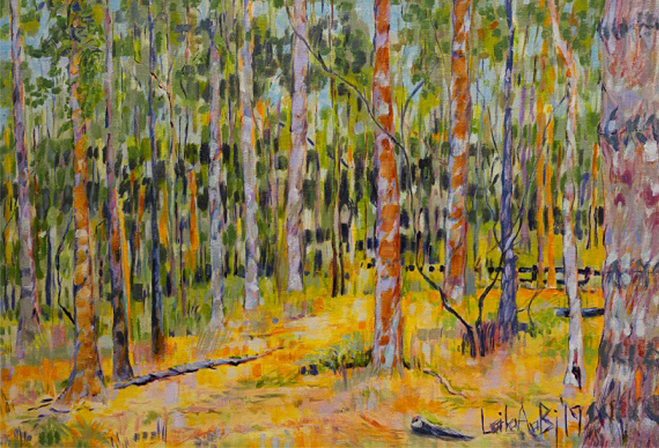 ---
About this event
Join exhibiting artist Laila Bjornsson and her mentor Richard Blundell for this exciting two-day master class in en plein air painting (or painting outdoors), responding directly from the landscape.
Workshop details
The workshops will facilitate technical understanding of en plein air approaches using oil paint. You will also use and question the genres of landscape painting found in European and Australian landscape traditions.
You are required to attend both days and will produce one or two complete oil paintings dealing directly with the environment.
Sessions will be held on the following dates:
Day 1, Thursday 13 May 2021, 10 am to 2pm
Meet and greet at Logan Art Gallery. BYO lunch. Introduction to en plein air painting. The use of equipment, materials and resources and health and safety issues. Learn techniques and observational skills required. Learn about cropping, isolating and selection of subject matter. Work with colour, shape, juxtaposition, scale and view-points. Experiment and develop ideas.
Day 2, Thursday 20 May 2021, 10 am to 2pm
Meet and greet at Daisy Hill Conservation Park, P2 Car park, Daisy Hill Road, Daisy Hill, QLD 4127. BYO lunch, sunscreen, hat, folding chair, water bottle. Work directly from and in the Daisy Hill Conservation Park landscape. Learn about the use of colour, tone, and light in relation to picture making (particularly in the Australian context). Create a finished landscape in oil paint on canvas.
12 places are available to adults and older teens in a COVID-safe environment. It is preferable that you have some intermediate experience in painting. Bookings are essential.
Book your place at the Our landscape in oil paints workshop
This workshop is being held in conjunction with the exhibition, The warp and the weft of the forest.
We are inviting limited numbers to attend these face-to-face sessions. Contact tracing, physical distancing and hand hygiene requirements will apply. To find out more, please see COVID-19.
This project is supported by the Regional Arts Development Fund, a partnership between the Queensland Government and Logan City Council to support local arts and culture in regional Queensland.
Image credits:
Laila Bjornsson, Daisy Hill Conservation Park 5. 2020, oil paint on canvas
Categories: Logan Art Gallery - Arts, culture and Heritage - Environmental events - Environmental
---
Still looking?
Search for other events...