Free movies at Beenleigh Town Square from July to December 2021
11th September 2021 - 11th December 2021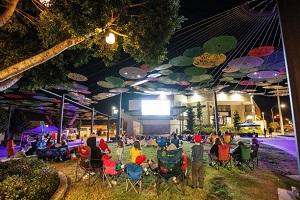 ---
About this event
Kick back and relax under the stars by bringing your own chair or picnic blanket!
Why not support the local businesses by purchasing dinner in the town centre, or bring your own food. Some events will feature on-site vendors serving hot food, popcorn and drinks.
Free popcorn and video games
Attendees can enjoy a free cup of popcorn on the night – limited cups available and redemption instructions will be provided on your registration confirmation.
Play retro video games on the big screen, commencing 30 minutes before the movie starts.
More information and registration
You can find the most up-to-date information and registration details by downloading our Movie Program (PDF 4.5 MB) or through Eventbrite.
Movie registration is required for each screening.
Pet and alcohol-free event screenings.
For more information please email beenleigh@logan.qld.gov.au.
Categories: Family friendly - Beenleigh - Beenleigh Town Square Big Screen
---
Still looking?
Search for other events...