Logan Seniors Big Day Out
7th October 2022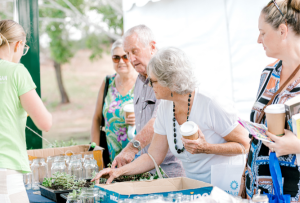 ---
About this event
Logan seniors will be able to relive their youth for the day with an action-packed day of fun! The day will be a whirlwind of activities including a 'Paint 'n' Sip, crafts, entertainment and so much more! For those who just want to indulge in relaxation, there will be free massages and pedicures. For those who want to learn a new skills, there will be workshops to cater for all new interests. There will be plenty of food on offer at great low prices, plus some alcohol tasting. The day will also provide opportunity for seniors to connect with all the amazing lifestyle and social opportunities available in Logan.
Activities include:
Paint 'n' Sip
Calligraphy workshop
Card-making workshop
Massages
Pedicures
VR fishing and exploring
Dance class
Laughing yoga
Gala entertainment featuring Dean Vegas (A Tribute to Elvis) - tickets $7.50, purchase now!
When: Friday, 7 October 2022
Time: 9.00am to 3.00pm
Location: Logan Entertainment Centre, 170 Wembley Rd, Logan Central
Schedule
Massages and mini pedicures
9:00am to 1:30pm
Sit back, relax and enjoy free massages and mini pedicures in our relaxation zone. You'll love gettingpampered and will feel refreshed.
VR fishing and world exploration
9:00am to 3:00pm
Open all day, drop in and immerse yourself in a virtual world. Travel back in time to visit your childhood home, favourite overseas destination or see one of the wonders of the world. Haven't made it fishing in a while? Try your luck with virtual fishing.
Calligraphy workshop
9:15am to 10:15am
Capture the beauty of words, by learning to write with beautiful and bold brushstrokes. Whether you are doing calligraphy for the first time or brushing up on old skills – this is the place for you! Limited spots.
Paint 'n' sip
9:30am to 11:30am
12:30pm to 2:30pm
Get creative with a free painting workshop. Paint a masterpiece in a step-by-step process. Enjoy a wine or cuppa tea while you work! Limited spots.
Laughter yoga
10:30am to 11:00am
Release any stresses with this amazing, freeing class. The short class will use small movements (for all abilities) mixed with breathing exercises that aim to cultivate joy, and bring out your inner child.
Dance class
11:15am to 11:45am
A ballet inspired, movement class for all mobility levels and genders. This motion class is a fun class which gets you doing some light movement and reinvigorating you with energy.
Card making
12:15pm to 1:15pm
Add a little something extra to your cards by learning how to create flourish accents and emboss lettering. If you like creating beautiful and personalised cards for any occasion, you don't want to miss out on this workshop. Limited spots.
Applications are now closed to exhibit or sponsor.
For more information see our Logan Seniors Big Day Out for more information.
Categories: Featured Events - Seniors - What's on - Logan Central
---
Still looking?
Search for other events...