Rock legend to launch new exhibitions by Logan artists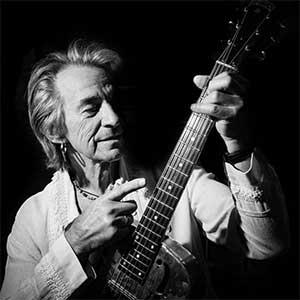 Legendary rock guitarist and singer-songwriter Kevin Borich will unveil the latest exhibitions at the Logan Art Gallery tomorrow night.
Borich, one of Australian rock's most celebrated guitar players, led the Kevin Borich Express and helped found The Party Boys and the La De Das.
He will unveil the gallery's current exhibition round to support Tanah Merah artist Wayne Budge's images of Australia's musical rock legends.
Artists Leo Sayer, Brian Cadd, Richard Clapton, Glenn Shorrock and Borich are among those photographed for his Faces behind the music exhibition.
The striking black and white portraits use low-key lighting and were taken from the late 1960s through to more recent years.
One image features the late Andrew 'Greedy' Smith from Mental as Anything who died of a heart attack on Monday.
The other new exhibitions include:
Chris Martin: Inherit this - The Shailer Park artist looks at the future of the world and encourages everyone to re-evaluate their ways.
Group exhibition: Cutting edge - Local artists Rosemary Gorton, Owen Lucas and Rusty White use farm implements in their paintings of rural and regional life.
Spectator Jonze: Observing the quiet unquiet – These digitally drawn portraits explore individual mental health.
The new exhibitions open at 6pm tomorrow night.
Talks by Chris Martin and Wayne Budge begin at 5.30pm.
This round will be on display until January 18.
It will include a number of activities at the gallery. These include:
An exhibition talk and morning tea (10am, Friday, December 13).
Artist Owen Lucas will discuss the use of farm implements in art and demonstrate how to paint on objects as saucepans, frying pans and baking trays (10am-1pm, Thursday, December 12).
The Old Chisel Band and artists from Cutting Edge (2pm, Saturday, December 14).
Bookings via logan.qld.gov.au/galleryevents
The gallery is on the corner of Jacaranda Ave and Wembley Rd, Logan Central.
It is open between 10am and 5pm from Tuesday to Saturday. Admission is free.
For more information visit logan.qld.gov.au
Return to News List