Logan Water contract awarded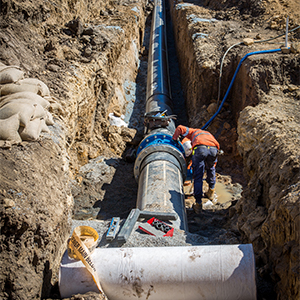 Logan City Council has awarded its largest contract to date to continue its successful public-private partnership model to deliver water infrastructure.
The successful tenderer, Downer Utilities Pty Ltd, along with consultants WSP Australia Pty Ltd and Cardno (Qld) Pty Ltd will partner with Logan Water to rollout up to $1 billion of water and wastewater infrastructure across the City of Logan over the next nine years.
The partnership will be known as the Logan Water Infrastructure Program Alliance (LoganWIPA).
Council's Road and Water Infrastructure Acting Director, Daryl Ross said the contract was for five years with options for two extensions of two years each.
Mr Ross said the quality of the applications in the tender process boded well for the city's future water infrastructure program.
"Quality tenders were received from Tier 1 contractors and engineering consultants," Mr Ross said.
"These high-calibre companies see Logan as a progressive Council and they were keen to commit to long-term partnerships."
Council has been in alliance partnerships for the past 10 years.
The current Logan Water Infrastructure Alliance (LoganWIA) has been planning, designing and delivering Logan's water and wastewater infrastructure to meet the demand for new infrastructure in growth areas.
It has also been maintaining service levels through renewing existing infrastructure.
Key infrastructure projects include water and wastewater pipelines and pump stations, water reservoirs, wastewater treatment plants and water and wastewater network management technologies.
The new alliance partnership will build on this solid foundation.
The alliance's activities benefit the local economy, environment and community by:
improving the value and minimising the cost of infrastructure
providing infrastructure for Logan's growing population and economy
installing infrastructure and technologies that reduce environmental and social impacts
providing local employment and training opportunities for staff and local businesses.
Return to News List