Learn-to-swim program boosts water confidence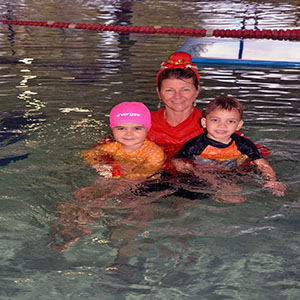 Two Logan families are looking forward to a big summer of water play thanks to an important Logan City Council program.
The Koelmeyer and the Dwyer-Villany families have been taking part over the past year in Council's Aqualogan Laurie Lawrence Swim School at Logan North Aquatic Centre.
Nathalie Koelmeyer, from Loganlea, said ensuring her children, seven-year-old Brandi and four-year-old Latrell, were safe in the water was her top priority.
Mrs Koelmeyer said living in Queensland revolved around water activities in summer.
"We spend every weekend at the pool, the beach or the water park," she said.
"I'm so glad we did it (learn-to-swim lessons).
"I decided it's not something I was compromising on even through the winter months.
"It is a matter of life or death and this is a priority."
Mrs Koelmeyer said the classes had increased her children's confidence in the water.
"It means they now know what to do in the water if they were ever in trouble."
Daisy Hill resident Zara Villany said her five-year-old daughter Olivia Dwyer hated the water when she started classes two years ago.
Ms Villany said since then her confidence had soared through a good instructor and a successful program.
This had lessened the family's stress when they were around the water.
She said she had also learnt some new water safety techniques herself through the classes.
Logan North Aquatic Centre Learn-to-Swim Supervisor Barb Muxlow said it was important anyone learning to swim kept practising as much as possible over the summer.
She said this was especially important for younger swimmers.
Summer swim camp will operate between 9am and noon on Tuesday, January 7, Monday, January 13 and Thursday, January 23.
Designed for more experienced swimmers, the camp will cover diving techniques, Cardiopulmonary Resuscitation (CPR) and rescue methods and swimming strokes.
It costs $60 per child.
An intensive course of classes will also be held in January at the Logan North Aquatic Centre.
A 30-minute lesson will be available daily between 8.15am and 11.45am from January 13 to 17 at a cost of $70 per person.
For session inquiries call 3412 5650.
The 2020 learn-to-swim class schedule will recommence on Monday, January 20.
Return to News List