Logan Art Gallery prepares for busy year in 2020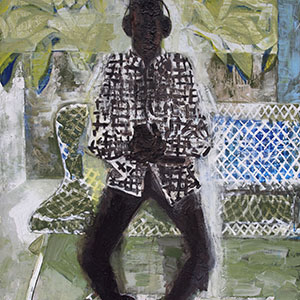 A diverse range of artworks by Logan artists will be on display at the Logan Art Gallery this year.
The program will also bring significant touring exhibitions to the City of Logan.
Woodridge artist Ian Smith will present a solo exhibition in the first exhibition round of 2020 from Friday, January 24.
Paintings of commuters and passengers on the Brisbane-to-Beenleigh train line feature in The Beenleigh Line.
Large-scale charcoal drawings from Edens Landing artist Miriam Innes will be in the same exhibition round.

Her works, showcasing New York City's architecture and streetscapes, will wrap the gallery's walls.
Based on a shared theme of Our town the annual children's art exchange will run from June 19 to July 25.
It will feature works by students from the City of Logan and its Japanese sister city Shibukawa.
Highlights of the 2020 program include:
Reconnect memories - a family history by artist and photographer Shehab Uddin. Mr Uddin has worked with families in Logan to link archival family portraits with newly created images.
Lace will feature lace hangings created from plastic bags by New Beith artist Mary Elizabeth Barron. It will deliver a message on pollution and environmental sustainability.
Krabi short film project is a fictional, animated visual story by Merri Randell and Chris Denaro. It tells the tale of a fiddler crab from Logan trying to find his family.
In Her Words is a photographic exhibition focused on women behind and in front of the camera. It is on tour from Victoria's Horsham Regional Art Gallery.
Stopping Time: Material Prints 3000 BC to Now is a major exhibition toured by Gympie Regional Gallery. It tells the story of the printed image from ancient Mesopotamia to now. The works come from Griffith University Art Museum, Newcastle Art Gallery and private collections.
For the full 2020 exhibition program visit logan.qld.gov.au/logan-art-gallery/exhibitions.
Return to News List