World champ flips over new BMX and skate park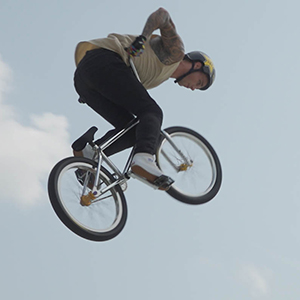 Professional freestyle BMX champion and Olympic hopeful Logan Martin today became the first rider to test City of Logan's $3.1million Doug Larsen Park BMX and skate facility.
The world No.1 flipped and twisted his way out of the ramps in Australia's first international-standard skate and BMX park, ahead of the 2020 Tokyo Olympics, where BMX freestyle will make its Olympic debut.
Logan gave the new facility the thumbs up after executing various aerial manoeuvres on the big steel ramps.
"This is super amazing, to see it complete and of this standard is unreal," he said.
"I grew up here and would come to the old park every weekend to ride. To see it transformed and to know you had a hand in the outcome is just a crazy thing."
The 27-year-old said he remained hopeful of securing a spot on the 2020 Tokyo Olympic freestyle BMX team with a couple of qualifying events left to contest.
"We are in the qualifying period now for Tokyo and it's all looking promising at the moment," he said.
"This new facility will be where we prepare. All of the ramps are of international standard. You can't find anything better in Australia."
The amenity has been hailed as world-class by BMX professionals and will become a popular fixture for national skate and BMX events.
Cycling Australia has rated Doug Larsen Park as the best BMX freestyle facility in the country.
It will host international competitions, including the Beenleigh Freestyle International UCI C1 on January 18-19.
"This facility is for everybody whether you scoot, skate or ride and it's got something for all ages," Cycling Australia Technical Director (BMX) Wade Bootes said.
"Council reached out to the community, including Cycling Australia and the athletes and took all of the info on board proactively and came up with this incredible facility.
"Our plan prior to Tokyo is to have a camp here at Beenleigh with the Olympic team where we can train and prepare."
Logan City Council is a partner to the feasibility study on a possible South-East Queensland bid for the 2032 Olympic Games with Doug Larsen Park a potential venue.
Logan City Council Director of Community Services, Katie Barton-Harvey, hoped the park would bring community together.
"It will be transformative for the area and we expect large numbers of people to enjoy the park, while testing and honing their skills. Who knows, the next Logan Martin could live just a street away."
She said it was a 'perfect example' of what can be achieved with a collaborative approach between Council and the community.
The facility was built by Epoca Constructions.
Return to News List