Hooking a tackle bin is not fair fishing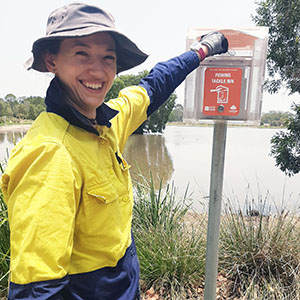 Anglers are getting hooked on new tackle bins at fishing locations across the city but not always for the right reasons.
The bins were installed to help reduce the amount of unwanted fishing line and tackle being dumped into local waterways.
Kingston-based social enterprise Substation33 uses recycled plastic to make the bins.
Unfortunately, some bins have become the 'one that got away' and have been stolen or vandalised.
Council urges everyone fishing and other park users to be vigilant to ensure the bins are used for their intended purposed - protecting the environment.
Already 170 metres of discarded fishing line has been placed into the bins.
Council thanks those anglers using the bins correctly and helping to keep our environment clean and green.
The bins also play a vital role in protecting wildlife.
Every year, the Council-funded RSPCA Animal Ambulance attends to more than 25 birds tangled in discarded lines and hooks.
Bins have been placed along the Logan River at Larry Storey Park, Waterford and Skinners Park, Carbrook.
A bin also has been installed at Tygum Lagoon, Waterford West, and to date has been well used by local fishermen.
Damage to the bins can be reported by calling Council on 3412 3412.
Return to News List