Community in the swim of it at Beenleigh Aquatic Centre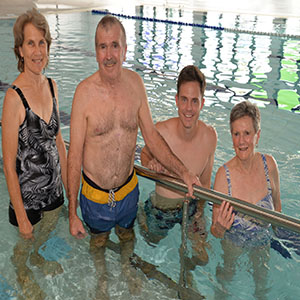 The Beenleigh Aquatic Centre will soon celebrate its first birthday with the facility proving popular with families.
The centre underwent a major $5.5 million redevelopment including the construction of an indoor heated pool.
Heated to 32 degrees all-year-round, the pool is now in constant demand with local residents and organisations using it to exercise.
Since its opening on March 15, more than 30,000 extra people have enjoyed the facilities.
Community Services Director Katie Barton-Harvey, said the community loved having the centre available for their recovery and water walking sessions.
"It is a positive addition to the community which offers easy and convenient access," Ms Barton-Harvey said.
"Beenleigh has had an outdoor pool since 1962 but this is the first time that we've had an indoor heated pool."
Ms Barton-Harvey said the pool was used by many community members.
These include childcare groups, seniors' organisations and disability support groups.
"It has a Changing Places Facility which has been well received," she said.
This modern changing room offers a hoist and wheelchair access for people with accessibility or mobility requirements.
It is one of only three of its type in Australia.
It has catered to people including members of the Beenleigh and District Senior Citizens Centre.
Previously the group travelled by bus to Springwood to access a pool.
The centre's Physiotherapist Samuel Hayman said it had made a difference in many people's lives.
"The Beenleigh Aquatic Centre is a great pool," Mr Hayman said.
"The accessibility meets with our clients' needs and their disabilities.
"Having a pool right here in the heart of Beenleigh ensures people can get out and exercise.
"This lets them reach their goals and improve their independence."
The Beenleigh Centre also runs learn to swim programs for all ages via the Aqualogan Laurie Lawrence Swim School.
It also offers stroke correction, squad training, water aerobics and more.
It operates from 6am to 7pm on weekdays, 7am to 5pm on Saturdays and 8am to 5pm on Sundays.
More information is available at loganleisurecentres.com.au
Return to News List