Council's new green machines keeping students safer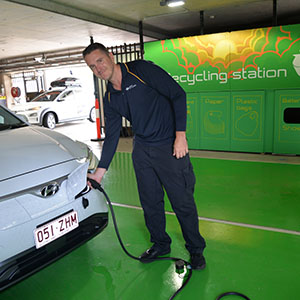 Uniforms, shoes, books and bags - there's a lot to remember at back-to-school time.
Logan City Council is urging families to focus on getting the kids to and from school safely.
Council will partner with Queensland Police to patrol school zones in 2020 to ensure student safety.
It will also introduce two electric number plate recognition vehicles to enforce parking rules.
The cars can travel up to 450km on a single charge, and include anti-collision and avoidance technologies.
The lack of a petrol motor also means the vehicles incur lower servicing costs for Council.
The vehicles have a fresh new look to promote proper parking practices and safety in school zones.
Logan City Council Community Services Director Katie Barton-Harvey said a key focus for Council was providing parking and safety education.
"Whether your child is returning to school or it's the beginning of their education journey, now is the perfect time to teach them about road safety in and around school zones," Ms Barton-Harvey said.
"Council officers will regularly be on hand at local school zones to support parents in this endeavour.
"We are here to support parents and families and to promote safety in parking and driving practices around Logan schools."
'Patrick Pace Car' will also be back out on the streets from next week, to set the pace around local schools.
Reduced speed limits of 40km/h apply in school zones.
For more information on Council's Back 2 School program or parking restrictions around schools head to https://www.logan.qld.gov.au/schoolparking
Return to News List