Logan gets a slice of Big Apple in February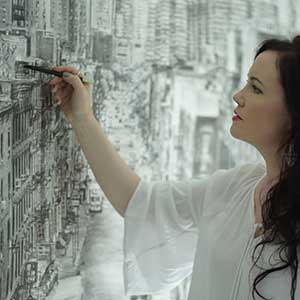 The world will seem at Logan's feet in February as some of the City's most talented artists bring their internationally-inspired creations to the Logan Art Gallery.
Visitors will take a walk through the streets of New York in one of the gallery spaces, where the charcoal imaginings of Eden's Landing woman Miriam Innes will fill the walls.
The large-scale drawings of the architecture and streetscapes of New York are drawn in stunning black and white detail.
Several panels of her work were displayed at New York Art Gallery in mid-2019, but Logan art lovers will be first to see the entire creation.
Ms Innes said the "ambitious project" took two years to complete.
The project was supported by a Queensland Government Regional Arts Development Fund grant, through Logan City Council.
"My initial idea was a simple one, I wanted to share the experience I had when I first visited New York," Ms Innes said.
"It has taken me a number of years to have the confidence and skill to be able to execute this goal in the way I wanted, largescale and in charcoal.
"The RADF (from) Logan Council together with Arts Queensland... was the starting block for the project to come to life."
Rochedale South artist Mei Mei Liu's Coral impression will also transport viewers to another place.
The work combines traditional Chinese calligraphy and contemporary watercolour painting techniques.
It aims to evoke the colour and beauty of the Great Barrier Reef.
The other new exhibitions include:
Ian Smith: The Beenleigh Line – A series of paintings inspired by passengers and workers on the Brisbane to Beenleigh train line.
Adele Spain – Tales around a tea cosy and Somebody yarn bombed my teapots! - Two series of works featuring contemporary and unique knitted tea cosies.
The new round of Logan Art Gallery exhibitions will open on Friday, January 31. This round of works will be on display until March 7.
Other activities being held at the Gallery over the next month include:
Artist's talk and 'Draw Your Favourite Building in Charcoal' workshop with Miriam Innes, from 10am on Feb 1.
Exhibition Talk and morning tea with Adele Spain, from 10 on February 7.
A celebration of Chinese art and culture with Mei Mei Liu from 12pm on February 15. Refreshments from 1pm. The Sino Sound Group will perform traditional songs and folk dances from northern China. Bookings are essential.
An afternoon of conversation with Ian Smith, from 2pm on February 22.
Barrier Reef dreaming: creative knitting with Adele Spain from 10am on February 27.
Tales around a tea cosy: creative double knitting with Adele Spain, from 10am on March 5.
Logan residents are also invited to an event 'Celebrating Logan's Creativity' on February 8, from 2pm.
The event will showcase some inspirational arts projects from 2019.
Attendees will hear from professionals who have made their ideas happen with grant funding.
Light refreshments will be served so bookings are essential.
To book for this event, or any of the others listed above, please see Logan Art Gallery events or phone 3412 5519.
Return to News List