Help track mangrove health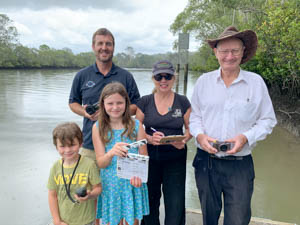 Logan residents are invited to take part in a monitoring program to help protect mangroves along our waterways.
MangroveWatch, with the help of volunteers, will scour the Logan and Albert Rivers to gather information on the health of the shrubs.
Mangroves are key indicators of aquatic health and early indicators of change.
They trap and store nutrients that support around 75 per cent of marine creatures.
Logan City Council, the Wildlife Preservation Society of Queensland Logan Branch and Wildlife Queensland's Coastal Citizen Science Division is delivering the monitoring program.
MangroveWatch is a partnership program that helps to monitor and protect coastal ecosystems.
Interested community members can sign up to attend a training workshop and undertake monitoring on small boats on the river.
The workshop will take place on Thursday, 13 February at 3.30pm at Kimberley College, Carbrook
Monitoring sessions will take place in February and March depending on weather conditions.
Volunteers will video, photograph and observe mangrove habitats on the two rivers.
Scientists will then analyse the information gathered.
The boats are provided by the Jacobs Well Environmental Education Centre.
"Most of us take mangroves for granted but they are vital for our enjoyment and survival," Jacobs Well Environmental Education Centre principal Steve Rowell said.
"That's why this citizen-science project funded by Logan City Council is so worthwhile."
Volunteers will help children from Kimberley College and Browns Plains High School learn more about the importance of these ecosystems.
MangroveWatch wants to hear from other school groups eager to get involved in future monitoring sessions.
For more information and bookings contact Debra Henry 0439 914 631 or debra.ann.henry@bigpond.com
It is the third time in five years that the mangroves in the Logan and Albert Rivers will be monitored.
Previous monitoring has provided valuable input to Council's long-term Vision Plans for the Logan and Albert Rivers.
Return to News List