City of Logan branches out for koala conservation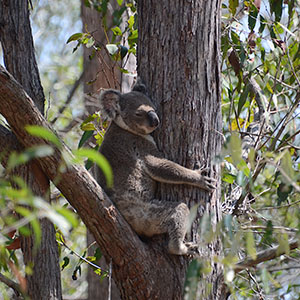 City of Logan has listed 40 recommendations in a response to the State Government's Draft South East Queensland Koala Conservation Strategy 2019-2024.
The strategy was developed by the State Government to enhance the conservation of koalas within South East Queensland and includes proposed planning reforms.
The reforms aim to enhance and strengthen conservation mechanisms through the development assessment and town planning process.
Council's submission includes a request for further detail on core koala habitat; the need for collaboration with local governments to identify where the restoration of habitat is likely to occur; and to ensure that landholders are included for accurate mapping of conservation areas.
Council also requested a discussion on invasive pest plant species which pose a risk to sensitive habitat and a target for wild dog attacks and disease-related koala deaths.
Logan City Council Acting Director for Strategy and Sustainability, Michael Asnicar, said the strategy is an important step to delivering a strong coordinated approach to koala conservation in SEQ, but more work was required.
"After reviewing the Draft South East Queensland Koala Conservation Strategy, Council identified some areas where improvements can be made," he said.
"We're also seeking clarity on some of the targets around habitat restoration, the selection process for conservation sites and koala monitoring."
Mr Asnicar said Council had been liaising with the Department of Environment and Science (DES) and the Department of State Development, Manufacturing, Infrastructure and Planning (DSDMIP) on koala reforms since June last year.
The proposed reforms include:
New Koala Habitat Area (KHA) mapping;
Introduction of Koala Priority Areas (KPA);
Introduction of Koala Priority Areas - Restoration Areas (KPA-R);
Introduction of State Development Assessment Provisions (SDAP) for areas inside and outside mapped KPA;
Introduction of a State referral trigger under the Planning Regulations 2017 for development in areas inside and outside KPA; and
Amendment of Environmental Offset Policy to facilitate KPA-R.
"Council has been an active participant in this consultation process with State Government to ensure the proposed koala reforms achieve the best outcomes for the city and its koala population," Mr Asnicar said.
"These amendments aim to ensure that the South East Queensland Koala Conservation Strategy better aligns to the strategic intent of the land use zoning and biodiversity outcomes of the Logan Planning Scheme 2015."
He said the draft strategy and koala reforms would impact policy and legislation changes in the Logan Planning Scheme and Council's current development assessment and planning process.
Key proposed changes include:
Ability to clear a development footprint up to 500sqm
State Government as the responsible assessment agency for the clearing of koala habitat outside a KPA;
New assessment benchmarks for local government for clearing of koala habitat inside a KPA; and
New code in the State Development Assessment provisions.
Council's Koala Conservation Strategic Plan 2013-2023 identifies significant areas of koala habitat in Logan and a diverse range of natural vegetation types that remain largely undisturbed.
With more than 75 per cent of the city retaining wooded vegetation cover, (approx 75,000 ha), Logan is ideally placed to ensure a proactive, innovative and sustainable approach to koala conservation.
Extensive vegetated koala habitat areas in the city include the northern suburbs which form part of the Koala Coast, Carbrook Wetlands in the east, Greenbank Australian Defence Force areas and Spring Mountain Reserve in the west and Plunkett Conservation Park in the south-east.
Download Logan's Koala Conservation Strategic Plan 2013-2023 (PDF 3002 KB).
Return to News List