Be vigilant on flood-affected roads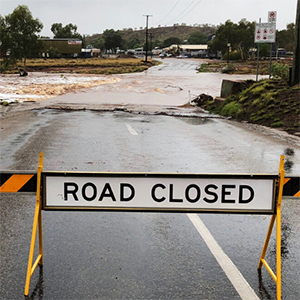 Logan residents are urged to take care after 48 roads were flood-affected following heavy rain.
While weather conditions have eased today, Council reminds residents to remain vigilant and stay updated on conditions through Council's Disaster Dashboard https://disaster.logan.qld.gov.au/.
While some roads have reopened, more than 30 remain affected this afternoon. Some roads may be further impacted over the weekend with rising river levels.
Water levels are considerably lower than the floods created by ex-cyclone Debbie in 2017.
The Albert River is expected to peak this afternoon, resulting in a less than 1-in-10-year event.
The Logan River is expected to peak over the weekend and is forecast to be a 1-in-5-year event in the lower reaches.
The flood peak of the Logan River was recorded as passing through Jimboomba and surrounding areas, at around 3.30 this afternoon.
As the peak passes, some waterways were expected to rise slightly and some roads may be closed again due to flooding. The peak is expected to pass the region within six to eight hours.
Anyone requiring emergency assistance should call the SES on 132 500.
A few properties could potentially be impacted by Logan and Albert River peaks. These residents were contacted by either the SES or Local Disaster Coordination Centre, with door-knocking yesterday afternoon.
No uncontrolled treatment plant discharges occurred and no pump well outages were reported.
There were several power outages reported overnight affecting 13 properties in Chambers Flat, eight in Carbrook and five in Munruben.
Energex reports that the network is currently under normal operation.
All Energex assets are to be treated as live. If you see a fallen powerline or a damaged electrical asset, stay well away, warn others of the danger and report it immediately to our emergency line - 13 19 62.
Four Council-owned parks are closed - Meakin Park (Slacks Creek), Gould Adams Park (Kingston), Nealdon Park and Green Lakes (Meadowbrook) and Doug Larsen Park (Beenleigh).
The walking track at the rear of Eagleby Wetlands is closed.
Barbecues at three parks have been turned off - Doug Larsen Park, Logan River Parklands and Tygum Park.
SES reported 82 requests for assistance overnight, with the majority for flooding and roof damage.
There were no rescues and all requests were completed.
Council also recommends avoiding contact with floodwaters during and up to five days after the heavy rainfall due to potential risks from any bacteria that may have been carried into waterways from runoff.
Department of Education listed the following Logan schools and day-care facilities as closed today.
Logan Village State School
PCYC Beenleigh
Goodstart Early Learning Logan Village
Sparrow Early Learning Yarabilba
AEIOU Logan
C&K Logan Village Community Kindergarten
Emmaus Kindergarten, Jimboomba
St Clare's Kindergarten and OSHC Yarrabilba
Logan road closures as at 4pm Friday 14 February .
Major roads
| Road/Street | Suburb |
| --- | --- |
| Mount Lindesay Highway | Jimboomba |
| Stanmore Road | Wolffdene |
| Waterford Tamborine Road | Logan Village |
| Beaudesert Beenleigh Road | Luscombe |
LCC-controlled roads
| Road/Street | Suburb |
| --- | --- |
| Distillery Road | Eagleby |
| Cusack Lane | Jimboomba |
| Pimpama Street | Waterford |
| School Road | Logan Reserve |
| Stoney Camp Road | Greenbank |
| Stern Road | Carbrook |
| Chambers Flat Road | Chambers Flat |
| Latimer Road | Buccan |
| Clarks Road | Loganholme |
| Second Avenue | Marsden |
| Wyatt Road | Jimboomba |
| Cedar Pocket Road | Cedar Grove |
| Veivers Road | Cedar Creek |
| Scott Lane | North Maclean |
| Rossmore Road | Chambers Flat |
| Plunkett Road | Tamborine |
| Schneider Road | Waterford |
| Clarke Road | Crestmead |
| Undullah Road | Undullah |
| Bahrs Scrub Road | Bahrs Scrub |
| Ford Road | Priestdale |
| Wuduru Road | Cornubia |
| Logan Reserve Road | Loganlea |
| Clutha Creek Road | Mundoolun |
| Greenvale Road | Chambers Flat |
| Dairy Creek Road | Waterford |
| Schmidt Road | Eagleby |
Return to News List