Logan's Interim Administrator Tamara O'Shea thanks Council and community in heartfelt message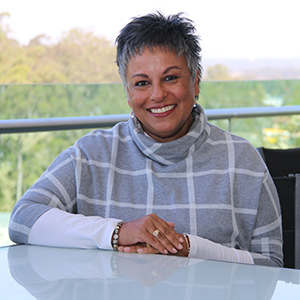 Logan City Council's Interim Administrator Tamara O'Shea has used her last official Council meeting to thank the people of Logan and to acknowledge the 'outstanding leadership' of the organisation.

Ms O'Shea became emotional when reflecting on her experience - appointed to the role of Interim Administrator in May 2019 by the Minister for Local Government, Racing and Multicultural Affairs.
"Logan is an extraordinary place with a wonderful and caring community. It has been a tremendous honour and privilege to lead your Council during this time of Interim Administration," she said.
"This opportunity has exceeded my expectations in every way and I could never have imagined that this would in fact be one of - if not the - most rewarding, worthwhile and positive experiences I have had in my career.
"I sincerely wish the next elected Council all the very best as they work together to lead Logan towards even greater success for the benefit of all who call this wonderful city home."
Ms O'Shea urged residents to hold elected representatives to account and outlined key policy amendments during her tenure, including governance reforms and the delivery of a transition to council roadmap for incoming councillors.
"Wherever possible, join in Council's community engagement and have your say on the future of your communities and your city," she said.
"I'd also encourage you to learn more about the work of Council by downloading and reading the monthly committee reports, and watching these live-streamed Council meetings. The strength of our democracy is in people's informed participation."
Ms O'Shea said council and the city of Logan had much to be proud of. She said her three main priorities were continuity of service, stable leadership and good governance.
"Thanks to the support of my Interim Management Committee and the outstanding leadership and hard work by staff within this organisation, I can truly say that I believe we have delivered on these priorities," she said.
"Everyone in Logan City Council - from elected representatives, to the executive, to staff are all being held to the highest standards as they work together to serve the people of Logan with transparency, accountability and integrity.

"Thank you to the officers that every day serve this city with consummate professionalism and passion. They have displayed resilience in the face of significant change and disruption.
"They have continued to deliver the full range of council services without pause. They have provided me always with frank and fearless advice. I could not have asked for more.
"And thank you to the many everyday citizens of Logan who I have been lucky to meet during my short time here. You have shown me every day what an amazing community and city Logan is."
Logan City Council Acting CEO Silvio Trinca praised Ms O'Shea for her commitment and support for the Logan community and the organisation over the last 10 months.
"During her time (Ms O'Shea) has challenged herself and the organisation to ensure that decisions were made in the best interests of the community, understanding that these decisions must be made under the laws, legislations and planning instruments that Local Government is governed by," he said.
"The organisation has welcomed the opportunity of working with Ms O'Shea for the benefit of our Logan community.
"Her professionalism and genuine care for the people of Logan and also our staff has been valued by all who have had the opportunity of meeting her."
Ms O'Shea will remain as Interim Administrator until the conclusion of the March 28 election.
To read the full transcript of the speech click here
To watch the live stream of the Council meeting click here
Return to News List