Phone buddies available to keep Logan connected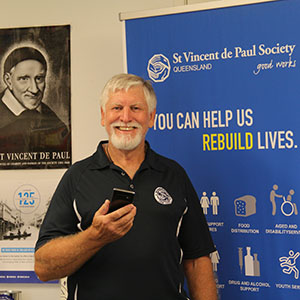 A group of Logan volunteers is standing at the ready to help those who might be feeling isolated, disconnected or alone because of the COVID-19 pandemic.
St Vincent de Paul Society Queensland is running the Logan Phone Buddy Program so the community can access a friendly voice and have a chat.
St Vincent de Paul Society Regional President Bruce Laker said the new week-day telephone service was designed to assist anyone who needed support.
Mr Laker said the service was available between 9am and 3pm from Monday to Friday by calling the Vinnes Helpline on 1800 846 643 which is a free call.
Callers should press one to access the menu options and then would be asked for their postcode.
Mr Laker said this allowed the service's call centre to put callers in contact with a local phone buddy.
He stressed it was important Phone Buddy callers press one upon being automatically answered to ensure they are not channelled into other Vinnies services.
The service is run by volunteers who want to support those needing connection in their community.
He said the service was not a crisis line and the volunteers were not trained counsellors but often dealt with those who regularly access Vinnies' services.
"They are well trained in conversations and how to ask questions." he said.
"They are used to dealing with people from all walks of life and circumstances."
Phone buddies may be able to answer questions or provide contact details for services although this is not the purpose of the program. It is simply about providing someone to chat with.
The service is open to everyone.
Return to News List