New Council sworn in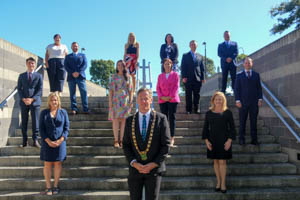 Logan City Council has welcomed its newly elected members at an official swearing-in ceremony at Logan Entertainment Centre.

Adhering to strict social distancing measures, Mayor Darren Power and the 12 councillors were permitted to bring one guest each as they signed their declaration of office, sworn in by Council's Acting CEO Silvio Trinca.
Mayor Power thanked the Logan community and his family for support during a 'tough' election campaign and said the first priority for the new Council would be delivering the 2020 Budget.
"Hopefully this Council will be the best one I've served," Cr Power said.
"I want to thank my colleagues and the candidates and not just the winning ones, but also those who didn't quite get there. We all know how tough it can be."
"I also want to thank my wife because 23 years ago I was standing here and I thanked everyone else but her."
Logan's new Council
Mayor: Darren Power
Division 1: Lisa Bradley
Division 2: Teresa Lane
Division 3: Mindy Russell
Division 4: Laurie Koranski
Division 5: Jon Raven
Division 6: Anthony Hall
Division 7: Timothy Frazer
Division 8: Jacob Heremaia
Division 9: Scott Bannan
Division 10: Miriam Stemp
Division 11: Natalie Willcocks
Division 12: Karen Murphy
Return to News List