Upgrade completed ahead of schedule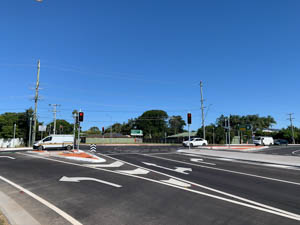 Work on a major Logan Motorway entry point has finished one month early.
Traffic lights have been installed at the Station Road and Jellicoe Street intersection at Loganlea to give motorists safer access to and from the motorway.
Council has also widened the road pavement, installed new turning lanes and cycle lanes, and installed new road drainage as part of the upgrade.
Logan City Council City Infrastructure Committee Chairperson Teresa Lane said the $4.5million upgrade will greatly improve the safety and flow of traffic at the busy intersection.
"Regular users of this intersection will be delighted that they can now enter and exit the Logan Motorway in such a safe and efficient way," Councillor Lane said.
"The timing couldn't be better either with traffic volumes starting to return to normal as the result of Covid-19 restrictions being eased.
"Council and its delivery partners deserve full credit for completing these works ahead of schedule."
Division 6 Councillor Tony Hall praised the economic benefits of the new intersection.
"It will speed up commute times for residents and crucially those businesses that rely on our road network," he said.
"This is a benefit that will be felt for years to come especially as the area continues to grow."
Doval Constructions partnered with Council to deliver the works.
The Federal Government contributed $1.4million towards the project, from its Roads to Recovery program.
Return to News List