Eats & Beats goes online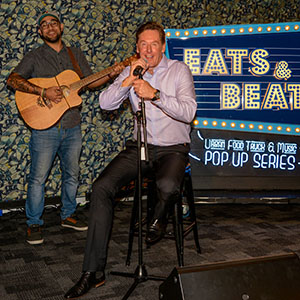 Zeek Power and Bam Duo have joined a line-up of local performers ready to rock the City of Logan's popular Eats & Beats festival into the virtual world.
Next Friday night, May 29, Eats & Beats Takeaway will be broadcast across Logan as the city joins together like never before.
The online event will commence at 5.30pm on the Logan City Council Facebook page, where attendees can watch their favourite acts.
Local food outlets including food trucks dotted around the city will also add some flavour.
Participants are encouraged to look up the food choices available in their Council division, grab some take away and head home to enjoy the event in the comfort of their homes.
Logan City Council Mayor Darren Power said while COVID-19 restrictions meant a traditional Eats & Beats was not yet possible, the online event was a great opportunity for the city to continue supporting its local food and music.
"We remain socially distant but we can still come together, through one of the city's favourite events, to connect and support our local performers and food businesses," Cr Power said.
"Logan residents continue to rise to the challenges presented by the COVID-19 pandemic, and this event will be a well-deserved treat we can all enjoy.
"Thank you to those who are stepping up to bring this event together.
"Now, I'll just have to decide what's on the menu for me."
City Lifestyle Committee Chairperson Councillor Laurie Koranski said Eats & Beats has been a popular feature on Logan's events calendar and had recently celebrated its fifth birthday.
"It is wonderful to see that even in difficult times, the upbeat spirit of Logan can flourish through events like this one," Cr Koranski said.
"Eats & Beats has become an important and favoured feature of our City and I really encourage everyone to get online next Friday night, and join in the fun."
Logan local Zeek Power, who rose to fame when competing on Channel 9s The Voice, said he had been thrilled to hear Eats & Beats could continue, despite current circumstances.
"Eats & Beats is just such an awesome community event," Zeek said.
"Before even playing here… getting to come and hang out with the locals and eat food and listen to live music was always an awesome highlight for me and my family," Power said.
"(COVID-19) was a bit of a shock to the system, but… (it) caused the music scene to just change, innovate.
"It's not necessarily face-to-face anymore but we're still doing it and I love that."
Eats & Beats Takeaway will run from 5.30pm until 8pm on Friday, May 29.
For more information, visit: https://www.facebook.com/EatsandBeatsLogan/
Return to News List