Road ahead a lot clearer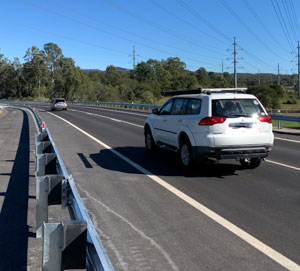 Traffic is flowing freely again on one of Logan's most popular rural connection roads.
New Beith Road, between Pub Lane and Citrine Street, is now open in both directions after nearly a year of works.
The $15 million upgrade was funded by Logan City Council's 2019/20 Capital Roadworks and Drainage Program and the Queensland Government.
City Infrastructure Committee Chairperson Councillor Teresa Lane said the 1.6km stretch of road is an important link to the fast-growing Logan south region and neighbouring areas.
"The upgrade will improve the condition, safety and capacity of the road for all users," Cr Lane said.
"I know the stop-start conditions have frustrated motorists at times but they now have a first-class road as a reward for their patience.
"Council is committed to ensuring that residents in rural and semi-rural areas have a road network that is fit for purpose today and into the future."
Safety features include smoothing out bends in the road and realigning intersections to improve visibility.
Wider lanes and more generous road shoulders further add to the improved safety of the road upgrade.
The Pub Lane roundabout has also been raised and large drainage culverts installed to mitigate future flood events and reduce the frequency of road closures due to flooding.
Reduced speed limits will remain on the road while the contractors conduct finishing works.
Return to News List