Carbon offsets an investment in Logan's enviro future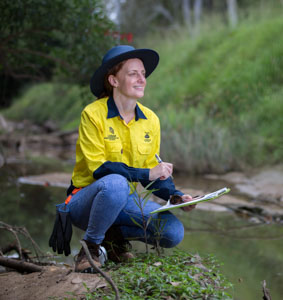 Preserving our environment for future generations remains a top priority for Logan City Council, which will continue to invest in carbon reduction strategies in 2020/2021.
Council is on track to reach carbon neutrality for its operations in 2022.
City Planning, Economic Development and Environment Committee Chair, Councillor Jon Raven, said just six Australian councils and a small number of private companies had achieved a carbon neutrality certification.
Logan City Council aims to achieve its certification over the next two years via:
The enhanced measurement and monitoring of carbon emissions
Avoiding and reducing carbon emissions
Embracing innovative renewable energy technology
Investigating options to invest in and support renewable energy projects
Offsetting remaining carbon emissions.
Where Council is unable to avoid, reduce or mitigate carbon emissions, these will be offset through certified carbon offset projects.
The carbon reduction strategies are just one part of $9.9 million in budget initiatives to enhance our natural environment through a range of programs across the city.
They will be funded through the Environmental Levy.
These programs include:
Albert River and Logan River Vision projects
The Albert and Logan River Trail which improves accessibility to our waterways
Scrubby Creek Catchment Recovery projects
Slacks Creek Catchment Recovery projects
Aquatic and Environmental weed control
Bushland maintenance and Bushcare programs
Land for Wildlife and Habitat Connections programs
Providing the community with over $150,000 in environmental grants
Delivering a range of family-friendly environmental events and activities
Ongoing planting of vines for the endangered Richmond Birdwing butterfly
Ongoing propagation of the rare angle-stemmed myrtle Gossia gonoclada, which is known to exist naturally only in Logan and a few parts of Brisbane
Recovery of priority wildlife species including koala, the spotted tail quoll, flying foxes and gliders
The annual Environmental Levy increases this year by just 40 cents per rateable property to $79.80.
"Our community values the environment. These investments demonstrate Council's commitment to playing its part in addressing climate change and protecting nature," Cr Raven said.
Landfill gas (LFG) management systems at the Browns Plains Waste & Recycling Facility are another example of the practical steps being taken to reduce Council's environmental footprint.
The systems capture methane gases created during the decomposition of organic material via a network of extraction wells and pipes.
The methane gas is then used to fuel a generator which produces power back into the local electricity grid equivalent to that used by 3000 households.
The process is performed under contract to Council by Energy Development Limited and ensures the facility complies with environmental regulations, reduces carbon emissions and reduces the risks the combustible and odorous gases pose to local environments.
Council has allocated $550,000 to contribute towards upgrades of the LFG system in partnership with EDL over the next five years.
Council will also invest $3.28 million in 2020/2021 to continue the construction of a new landfill cell at the Browns Plains WRF, which is required to extend its current lifespan.
-ends-
Return to News List