Being bushfire ready is top priority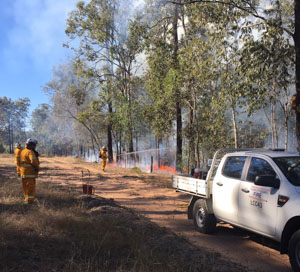 The horror bushfire season last summer has prompted the City of Logan to boost funding to be better prepared to fight bushfires.
The Logan City Council 2020/2021 Budget allows for an additional $237,719 to create new fire access lines to strengthen Council's existing fire break network.
The focus will be on Council-owned parks and property in areas with the highest risk of bush fires.
The funding will enable the installation and maintenance of an additional 26km of new fire access lines on top of more than 100km of existing fire breaks.
Catastrophic bushfires swept through large tracts of land in eastern Australia in 2019 and earlier this year.
Although Logan did not endure bushfire activity to that level, City Lifestyle Committee Chairperson, Councillor Laurie Koranski warned the community could not be complacent about the bushfire threat across the city.
"Our city has large natural land areas as well as urban communities adjacent to native bushland. These both present a fire risk," Cr Koranski said.
"This funding will ensure the risk of bushfires is lessened by reducing fuel loads in natural areas and ensuring fire access lines are clear and accessible."
Fire access lines, typically between 3 to 6 metres wide, are cut between bushland and residential areas to create a fire safety buffer.
Some are also cleared through bushland areas to provide emergency service access in the event of a fire.
Fire access lines also provide fauna escape corridors while the cleared trails are also used for walking and jogging, horse riding and mountain bike riding.
-ends-
Return to News List