Flagstone hub is home-base for booming community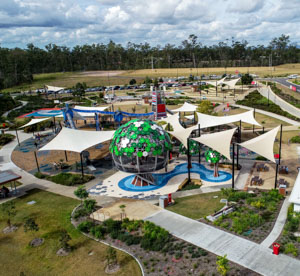 Logan City Council has reinforced its support for one of the city's fastest-growing areas, with a funding commitment in the 2020/2021 Budget to design Flagstone's first community hub.
The hub will help develop community connections and provide essential support services in the booming suburb.
The Greater Flagstone Priority Development Area (PDA) covers 7188 hectares with an expected 50,000 dwellings to be built to cater for a population growth of up to 120,000 people over the next 30 years.
City Lifestyle Committee Chairperson, Councillor Laurie Koranski, said a feasibility study funded in previous budgets had allowed Council to understand the needs and services required for the Flagstone community.
"The detailed design of this facility will allow Council to plan for the future delivery of a space for the community to gather and connect, with easy access to various services" Cr Koranski said.
"The community hub will be a first for Flagstone and shows Council's commitment to future infrastructure for the suburb, which thousands of Logan residents already call home."
A parcel of land will be transferred to Council from the PEET development later this year for the hub.
The project is scheduled for completion in 2022.
An announcement is expected soon on a similar community hub for Yarrabilba in a partnership project between Council and the State Government.
Meanwhile, Council has also allocated an additional $1.5 million over the next three years for sports park embellishments in Flagstone and Yarrabilba.
Cr Koranski said Council had been a leader in seeking partnerships to deliver community facilities.
"Keeping fit and active is so important in bringing the community together," Cr Koranski said.
"Sports infrastructure can be much more than just a place to play sport – there are many benefits to the broader community.
"By allocating this funding for new and upgraded sporting facilities, Council is able to leverage additional funding through grants and public private partnerships."
Council's Active Logan Strategy 2016-2028 reinforces the importance of providing community with space and infrastructure where they can be active.
-ends-
Return to News List