Massive makeovers for Jimboomba's Town Centre and footy park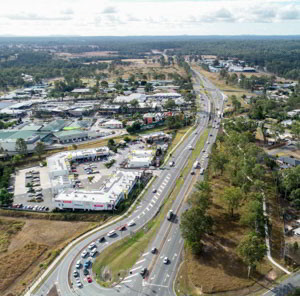 An exciting new era for Jimboomba Town Centre is on the way with a $1.7 million upgrade approved in Logan City Council's 2020/2021 Budget.
A further $2.59 million will go towards the development of the Jimboomba Park Master Plan which includes the delivery of a rugby league and touch football clubhouse.
The capital works and new strategies for the Town Centre will progress Council's vision of Jimboomba as place for many lifestyles.
Eight separate projects will be funded over the next two years that reflect feedback from residents, business owners and community groups who attended Council's Jimboomba Summit in March last year.
The Stage One projects are designed to stimulate growth and revitalise the Town Centre to improve its appeal to investors, visitors and the community.
Improvements under the new Jimboomba Implementation Plan include:
More and improved options for footpath dining
Decorative lighting for Cusack Lane and other key streets
Revitalising the disused railway corridor
Development of a Place Activation and Night Time Economy Strategy
Formulation of a Streetscape Masterplan and delivery of the Stage One upgrade
Upgrading existing signage
Logan City Council Mayor Darren Power said a working group would be established to assist in the delivery of the Jimboomba Implementation Plan.
"Extensive community consultation has been done to identify exactly what local residents and businesses want in Jimboomba and it makes sense to include representatives from those sectors in our working group," Cr Power said.
"This is a much-needed boost for Jimboomba and it is important that we continue to involve the community in developing a Town Centre that meets their needs and suits their lifestyle."
The funding for the development of a Streetscape Masterplan will encompass Cusack Lane, Johanna St, Honora St and the Mt Lindesay Hwy service road. Stage One works will focus on Cusack Lane.
The masterplan will consider options for new lighting, both safety and decorative, sun shelters, seating and other street furniture.
It will also review pedestrian and cycle connectivity, safety of road access and the installation of additional safety cameras.
"We want to make Jimboomba Town Centre a place that people enjoy visiting and want to shop and dine there, day and night," Cr Power said.
"That will boost the local economy, attract new businesses and investors and create jobs."
The funding will also kick-start the revitalisation of the disused railway corridor through the Town Centre.
Plans include construction of a temporary pathway under Mt Lindesay Hwy with lighting and safety cameras that will connect eastern parts of Jimboomba to the Town Centre.
Funding will also go towards the development of strategies to attract a greater variety of dining, entertainment and shopping outlets, reactivate unused spaces and deliver a variety of events to stimulate place activation and the night economy.
The 2020/2021 Budget also includes ongoing funding for works within four other implementation plans already underway as a result of other city centre summits.
Those projects, with costs spread across several budgets, are:
Meadowbrook: $5 million (2019-2022)
Logan Central: $5 million (2019-2022)
Beenleigh: $5 million (2018-2021)
Logan Village: $2 million (2018-2021)
The Jimboomba Park Master Plan Implementation is in line with Council's Active Logan Strategy 2016-2028 which highlights the importance of providing spaces and infrastructure where the community can be active.
The budget allocated $2.29 million for the construction of a new clubhouse, with two change rooms, and $300,000 to relocate existing public amenities.
The works, scheduled to be completed over the next three years, follow on from a number of other Council-fund improvements in Jimboomba Park over the past 10 years.
These include a netball clubhouse and amenities block and six sealed courts, change rooms and a referees' room along with a new field for the rugby league club and relocation of the pony club to a site featuring an undercover dressage area, show-jumping arena and clubhouse.
-ends-
Return to News List