New era for aging Logan North pool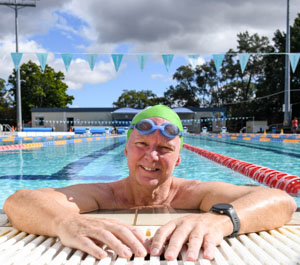 Logan's only Olympic-size 50-metre pool will get a new lease on life with a $9 million investment over the next two years.
After attracting more than 160,000 visitors each year and hosting up to 35 local school swimming carnivals annually, the main pool at Logan North Aquatic Centre has done its job and more.
City Lifestyle Committee Chairperson, Councillor Laurie Koranski said the pool, which was built in the late 1980s, was the centrepiece of the Lowe Oval master plan.
"The pool is more than 30 years old and recent audits have indicated that major maintenance is due, especially in the plant room and the equipment," Cr Koranski said.
"The increasing maintenance and operating costs for this pool means that it is a better decision to replace the pool and plant with modern equivalents."
Cr Koranski said the pool's plant room building was also at the end of its life with significant cracking and movement in the walls.
"Council has been proactive in identifying the issues and we want to make sure this well-used facility remains available to the community for another 35 years or more," she said.
"This investment will enable detailed planning and design to be done now in readiness for the work to be undertaken next winter."
The pool remains popular among Logan swimmers, including regular Lance Morgan.
Mr Morgan has been visiting the Logan North Aquatic Centre four times a week for the past three years, and shows little sign of slowing down.
The ability to train regularly at the pool has helped him become a two-time Queensland Masters winner in his 65-69 years age bracket in recent years.
While Mr Morgan happily took COVID-19 restrictions in his stride, he has been glad to get back in the water again.
"It's a beautiful pool and the cleanliness is always good," he said.
The pool is expected to be closed from March next year and will re-open for the summer of 2021/2022.
The works will include the replacement of the 50-metre pool and associated pipework, plant and plantroom.
The benefits of the works include:
Potential for two additional lanes, increasing pool capacity for leisure, squad training, school carnivals and regional competition.
Improved water quality controls.
New energy efficient pumps and filtration will lower power costs.
Reduced water consumption costs.
Removal of obsolete pipework will reduce the risk of future issues
Reduced pool closures for maintenance and repairs.
For more information about Logan's pools visit loganleisurecentres.com.au/
-ends-
Return to News List