Community benefits from new COVID-19 recovery support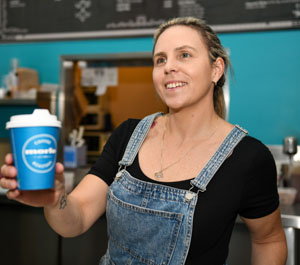 A second support package valued at $1.6 million will be rolled out to the Logan community to help boost the recovery from the COVID-19 pandemic restrictions.
Mayor Darren Power said Stage 2 of the Logan Economic Response Package was part of Logan City Council's 2020/2021 Budget.
"There is no doubt that the pandemic has hit communities around Queensland hard, and Logan is no exception," Cr Power said.
"As part of our budget deliberations, the newly-elected councillors explored various measures that we could introduce to support people in the community that need help the most.
"We've already announced a 50 per cent discount on environmental health licences for relevant businesses, which will put $500,000 back into the local economy.
"Today, we're adding an extra $400,000 in water remissions to community groups as well as suspending interest on all rates and charges debts to Council for the July to September quarter."
Interest had previously been suspended on all current rates debts for the April to June rating quarter.
Some Stage 1 initiatives will continue as part of this year's Budget:
No fee will be incurred on rates payments made at Australia Post.
All ratepayers can access Council's hardship policy to spread the cost of paying rates over a longer period of time.
All suppliers are now on 14-day payments terms to help with their cash flow.
City Governance Chairperson, Councillor Lisa Bradley, said Council had already received positive feedback from businesses about the discounted licence fees.
"Supporting business through tough times is a priority for Council," Cr Bradley said.
"Life is slowly returning to normal in Queensland, but COVID-19 remains a threat to our economy and community, so Council will do all it can for the City of Logan's recovery.
"I encourage everyone to play their part in ensuring the impacts of this pandemic are minimised as much as possible."
Popular Loganholme café Nikkalatte is among those local businesses supported by Council's COVID-19 relief package.
Owner Nicole Lynch said the support was like a shot of caffeine for her business which has a staff of four.
"When I got the phone call (from Council) I was doing a little happy dance," Ms Lynch said.
"I was at rock bottom then, that first week I had lost about 90 per cent of my customers, so I will never forget that phone call."
Ms Lynch said the support helped cover her latest stock bill, and to face the coming months with confidence.
"We don't have big finances behind us, it's just us," she said.
"So it (the licensing discount) definitely helps, now that we've picked back up and we are getting back on track again."
Return to News List