New direction for City of Logan as Council adopts 2020/2021 Budget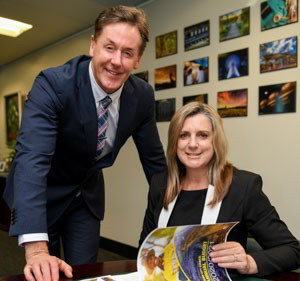 Logan City Council today delivered a $944.2 million back-to-basics 2020/2021 Budget to signal a new era for the City of Logan.
The devastating impact of the COVID-19 pandemic, lower than forecast growth, and a run of low rate increases over the years have compounded to create one of the most challenging budgets in Council's history.
New Mayor Darren Power said despite the challenges, Council had delivered on its promise to hand down a 'responsible and transparent' budget.
"There's no smoke and mirrors, it's just a very no-frills budget that will help to ease cost of living pressures on families and ensure Council can continue to provide critical essential services for the community," Cr Power said.
"This budget extends our COVID-19 relief initiatives to help Logan's recovery from this devastating pandemic which has changed the world as we know it.
"We are very transparent about the fact a considerable amount of time was spent analysing each line of Council's accounts to minimise waste and ensure the community gets value for money through the services and programs we deliver."
Cr Power said while Council had faced a 'perfect storm' of a slowing economy, the ongoing COVID-19 pandemic and rising costs, the city was still in good shape and investment in jobs and critical infrastructure would remain a focus.
"I want to say upfront that we considered freezing our rates charges for six months as part of our COVID-19 relief package, but this would have pushed more pain on to ratepayers down the track," he said.
"We are helping ratepayers spread the cost out over 12 months so they can plan their household budgets accordingly.
"The bottom-line rate increase of 2.2 per cent will add $1.14 cents per week for the majority of residential ratepayers.
"Importantly, we are able to continue to provide all services that play an important role in making the City of Logan a better place to live."
Cr Power said Council was committed to the delivery of key infrastructure and would ensure timely upgrades to some of the city's most popular facilities, including the 50-metre pool at Logan North Aquatic Centre and community hubs and parks.
"This has been one of the most challenging budgets I have seen in my 23 years at Council, but there are many positives as we usher in a new era for this wonderful and diverse city," he said.
"We have many new faces and I am proud of the way this new council has worked together to ensure a fair outcome for ratepayers, while responsibly balancing the books."
City Governance Committee Chairperson, Councillor Lisa Bradley, said low interest rates were both a help and a hindrance to Council's accounts, especially as the organisation's expenses were increasing above Brisbane's rate of CPI (1.8% in the March quarter).
"While we're able to borrow money cheaply, we're also missing out on income from interest that normally contributes to our revenue," she said.
"But there is no better time than now to borrow money. It costs us very little and we can do our share to get the Queensland and Logan economies back on track by creating jobs.
"With more than $6.5 billion in assets, Council's debt of $313 million is similar to having a $24,100 mortgage on a house worth $500,000.
"This puts us in a good position for long-term sustainability and we are using our money wisely."
Among the Budget's highlights, Council will invest:
$1.6 million to provide further relief to those hardest hit by the COVID-19 pandemic, in addition to the $1.3m package in March.
$119.1 million in essential water and wastewater infrastructure
$100.5 million in local roads, drainage, footpaths and bridges
$62.6 million on parks management and maintenance
$39 million on waste management services
$71.6 million on community infrastructure
$17.9 million on libraries and creative industries
$17.3 million on animal and pest services
$9 million to revitalise the 35-year-old Logan North 50-metre pool
$9.9 million to enhance our environment through a range of programs
$2.6 million to implement the Jimboomba Park Master Plan
Mayor Power said the city's 14,517 pensioners had also not been forgotten, with pensioner discounts continuing this year.
"This Budget is a solid platform for our community's post-pandemic recovery, and provides a clear strategy for our city and its new Council over the next 12 months and beyond," he said.
The Mayor, Councillors and Council's leadership team agreed to forego pay rises as part of the Budget deliberations to show solidarity with the community.
For more information on the 2020/2021 Budget, visit Annual Budget 2020 / 2021 (PDF 70430 KB) or watch the video at youtube.com/watch?v=tt3XDQHg1rs.
-ends-
Return to News List