Logan students catapult towards future success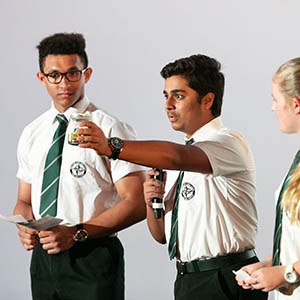 Two projects aimed at improving mental health in young people have been named as the winning entries in the 2020 Catapult youth entrepreneur program run by Logan City Council.
City Planning, Economic Development and Environment Committee Chair, Deputy Mayor Jon Raven, said Catapult encouraged high school students to think like entrepreneurs in a rapidly-changing world.
"The future of work was uncertain before COVID-19 crash tackled 2020 and since March this year we've seen the employment landscape change completely," Cr Raven said.
"Catapult was designed to connect students, educators and local businesses so Logan students learn that their ideas can become products or even careers.
"We wanted to build enterprise skills in local young people so they could develop the mindset of wealth creators to help grow Logan's economy."
Students from Mabel Park, Park Ridge, Shailer Park and Loganlea state high schools were involved in the inaugural program.
Council joined forces with social enterprise Young Change Agents to deliver Catapult, which included:
"hackathon" workshops over two days to identify problems, which were then brainstormed, validated, prototyped and pitched to a panel of judges
incubator sessions to continue bringing ideas to life, with entrepreneurs and industry partners hosting networking sessions, mentoring and master classes
a showcase event held on November 11.
Students from the two winning project teams will now be supported and encouraged to launch their projects on a crowd-funding platform so they can become a reality.
They have also won $2,500 scholarships thanks to Substation 33 and Social Enterprise Network - Logan.
Cr Raven said the students had thought outside the box to develop projects to make a difference and create employment in the City of Logan.
"The students wanted to tackle issues such as financial intelligence in young people, mental health, drugs and racism and make a positive impact on the environment," Cr Raven said.
"We were also fortunate to have people such as Vu Tran from the Logan-based online training company Go1 to share their knowledge and experience with students throughout the program.
"I'd like to congratulate the participants on their dedication to the program over several months as they went over and above their usual school work to impress the judges and break the mould.
"Who knows, maybe one day these students will be as recognisable in the same way we know of Elon Musk and Richard Branson today."
To learn more about the Catapult program, email innovation@logan.qld.gov.au
The top six projects from Catapult 2020:
| Finalists or winner | School name | Project |
| --- | --- | --- |
| Winner | Hoblo, Park Ridge State High School | Hoblo has created a chewable lolly to reduce stress and instil calm. Positive words of affirmation are included on the product wrapper as well. The project team built a website where young people can discuss their struggles and get support from peers. This team would like to further develop programs to help youth overcome mental health issues |
| Winner | United Health, Shailer Park State High School | United Health has created a physical journal to help youth keep track of their emotional health and provide a safe space to get things off their chest. Funds from product sales will be used to support people experiencing mental health issues. The journal also provides information about support services. |
| Finalist | The Art of Impact, Park Ridge State High School | The Art of Impact has developed a program to reduce substance abuse. It features talks from recovered drug addicts who share their personal stories. The program educates youth on the effects of substance abuse on users and those around them. The program also includes a website and hotline to provide recommendations to supporting friends and family. |
| Finalist | Furius 5, Loganlea State High School | Furious 5 has developed a mobile app and podcast to spread awareness, resources, and wisdom to those surrounded by the challenges of violence and substance abuse. |
| Finalist | Deer, Loganlea State High School | Deer is helping reduce gender bias by raising awareness and funds through a handmade sustainable soap. The proceeds from the soaps will go towards funding the construction of gender neutral/unisex bathrooms in schools. |
| Finalist | Unity Fest, Shailer Park State High School | Unity Fest is a multicultural festival that aims to reduce racial discrimination within the community. The festival will be held at high schools within the local community starting with Shailer Park State High School. The festival will have multicultural food stalls, music, art, performances and information on different cultures. |
The mentors
Some of the mentors involved with the program were:
Will Stubbs, a social impact strategist, non-profit leader, mental health activist, and writer
Alfred Allman, from Protect Industries, a community leader passionate about investing in young people in Logan. His range of businesses grew out of a single shed in Woodridge more than 20 years ago
Majella Edwards, founder of Sortal, a digital asset management start-up, which has now rolled out to more than 10 countries
Amanda Bennett, from Queensland Health
Matt Holme, a former student from Shailer Park State High School and founder of YouPay
Nathan Schubert, a learning and development consultant from GO1
Participant case studies
Joshua Gardner has always wanted to know how things work, and it's likely he will find all the answers when he pursues a career in mechanical engineering after finishing Year 12 in 2021.
In between completing a traineeship in IT, being a STEAM (science, technology, engineering, arts and maths) leader at Park Ridge State High School and studying six ATAR subjects, Joshua also found time to participate in Council's Catapult program in 2020.
For Joshua, his ambition to run his own mechanical engineering business after studying at the Australian Defence Force Academy is strong. And the foundations have been laid through Catapult.
"I've learnt about prototyping, how to build connections and about market research," Joshua says.

Shailer Park student Diaz Rogers says her interpersonal skills have been enhanced through Catapult.
"I've been learning about the skills of my team members, as well as being more organised myself and developing leadership," she says.
The 16-year-old plays six instruments and aspires to study music or interior design when her school journey ends.
Return to News List