Sewage into energy is an Australian-first for Logan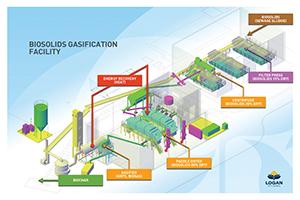 Logan City Council will pioneer an Australian-first innovative process that turns sewage sludge (biosolids) into heat energy and biochar, which improves and maintains soil fertility.
The new benchmark in environmentally sustainable biosolids management will reduce the volume and cost of biosolids waste disposal at Logan's largest sewage treatment plant by around 90 per cent.
The project is backed by the Australian Renewable Energy Agency (ARENA).
Loganholme Wastewater Treatment Plant (WWTP) provides services to 300,000 people and produces 34,000 tonnes of biosolids each year.
Six truckloads of biosolids are taken 300km to the Darling Downs for land application each day.
That costs $1.8million annually and represents 30 per cent of the Loganholme WWTP operation costs.
Acting Road and Water Infrastructure Director, Daryl Ross said Council was committed to finding a more viable and sustainable management solution that also lessened the environmental impact of the disposal process.
"Costs are increasing due to rising electricity prices, increasing population and tightening of government regulations on carbon reduction and managing persistent organic pollutants (POPs) in soils," he said.
The $17.28 million project includes $6.22 million in funding from ARENA.
ARENA CEO Darren Miller said the project will offer significant opportunities to be replicated by other councils.
"Logan City Council's demonstration project is expected to deliver a commercial business case for the gasification of biosolids for similarly sized wastewater treatment plants across Australia. The key knowledge learned from this installation will be significant given the first-of-kind deployment."
The project will involve the construction of a biosolids gasification facility at the Loganholme WWTP where biosolids will be dewatered, dried and then treated at high temperatures.
Heat created from the process will be captured and used in the sludge drying phase.
With support from an onsite solar power system, the facility will be almost energy neutral.
The process produces a biochar containing carbon, phosphorus and potassium that could be used as an environmentally friendly soil conditioner.
The project will save $500,000 in operating costs annual and initially reduce carbon emission by 4,800 tonnes each year.
Initial trialling is scheduled to begin in February next year with the new facility fully operational by July 2021.
The project follows Logan Water's innovations in wastewater treatment at the future Cedar Grove Environmental Centre, which is on track to become one of Queensland's most environmentally sustainable wastewater treatment plants.
Return to News List