Greenbank's new carpark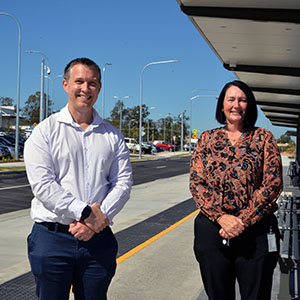 There are now 600 more reasons for commuters in the City of Logan to use public transport with the opening of the Greenbank park 'n' ride. 
The $21 million upgrade of the Greenbank RSL bus stop aims to increase public transport use in the city's growing western corridor.
The project was delivered by the Department of Transport and Main Roads and fully funded by the Queensland Government.
In addition to 600 parking spaces, the facility features a kiss 'n' ride parking bay for drop offs and three new bus stops on a purpose-built link road.
The facility is complemented with landscaping, bicycle racks, enhanced lighting and security and a layover for bus drivers.
City Infrastructure Chair Councillor Teresa Lane said the Greenbank park 'n' ride has many benefits for the City of Logan.
"Existing commuters will welcome the additional car parks and the new drop-off zone," Cr Lane said.
"The new bus stops will increase transport options and will encourage more people to consider not driving their cars.
"That can only be a good thing and I thank the Queensland Government for taking the initiative with this project."
Division 7 Councillor Tim Frazer urged residents to use the new park 'n' ride.
"Whether you're going to work in the City of Logan or in one of our neighbouring cities I encourage everyone to consider taking the bus to ease congestion on our roads while also helping to save the environment," Cr Frazer said.
A two-lane link road between Blackwell Street and Corporate Place has also been built for easier access.
Return to News List