Sun shines on our super solar program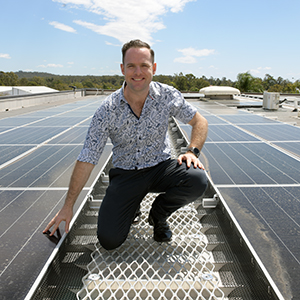 Logan City Council is powering ahead with solar installations that are reducing energy costs and saving ratepayers' money.
A 200-kilowatt system consisting of 480 solar panels has been installed on the roof of Council's Administration Centre in Wembley Road, Logan Central.
It is estimated the system will save $38,400 in electricity costs per year and reduce CO2 emissions by 250 tonnes annually.
Council's latest solar project follows the recent completion of a 1-megawatt solar farm at the Loganholme Wastewater Treatment Plant.
Solar panels have also been introduced on roofs of suitable Council libraries, aquatic centres, sports centres and a water reservoir.
Combined, the systems have increased Council's solar capacity to more than 2 megawatts and makes Council one of the largest harvesters of solar energy in the City of Logan.
Council's solar efforts add to the estimated 42,000 solar PV systems now installed on residential, commercial and community buildings across the city.
Environment Chair, Deputy Mayor Jon Raven said the latest installation was another step towards Council's goal to be carbon neutral by the end of next year.
"Our strong commitment to renewable energy not only saves ratepayers' money and protects the environment, it also creates more local jobs across the solar industry," Councillor Raven said.
Council's advanced solar program is a key part of the recently endorsed Climate Change Resilience Strategy 2021-2031.
The Strategy outlines the steps Council will take, in partnership with the community, to help the City of Logan adapt to a changing climate.
The strategy also outlines how Council can develop a better understanding of the impacts of climate change and improve its communication about the issue with the community.
Return to News List