Gallery to spotlight local artists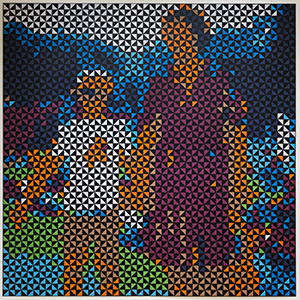 Cornubia artist Samuel Tupou's first solo exhibition at Logan Art Gallery later this month will highlight his Pacific Islander heritage along with imagery from 80s video games.
Samuel's Observing Patterns exhibition will open at the gallery on Friday, October 22 and run until Saturday, November 27.
His works are based on patterns in nature and everyday occurrences.
They are inspired by 80s video game imagery and mathematical geometry as well as traditional Pacific Island Tapa cloth design and fine mat weaving.
Greenbank artist Taijha Utner will deliver her first solo exhibition in the Young Peoples Gallery.
Taijha was chosen for a Logan Art Gallery mentorship from the outstanding young artists who were part of the 2020 annual Artwaves: Logan and adjacent areas secondary schools art exhibition.
She was mentored by the gallery over the past year to develop her The ripple effect: out of Artwaves exhibition.
The former Park Ridge State High School student's new series of paintings are based on the theme of personal fears.
Taihja has faced her fears with skill, creativity and wry humour and used painted foam clay to represent them in a group of acrylic paintings with three-dimensional elements.
A joint exhibition will also be hosted by a group of Chinese-Australian artists living in South East Queensland known as The Driftwood Collective.
Inspirations pays tribute to local first responders and reflects the artists' lives during a global pandemic.
Cornubia artist Barry Fitzpatrick will present a new series of paintings.
Barry wants to build awareness of the importance of biodiversity in nature through his exhibition Reflections on a changing biosphere.
The gallery is open from 10am to 5pm from Tuesday to Saturday. Entry is free.
Return to News List