Better digital infrastructure strengthens city's economy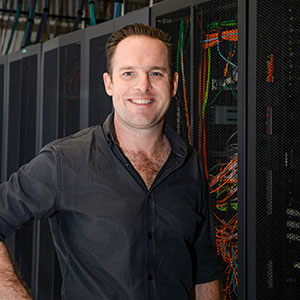 A long-term works program to improve digital infrastructure and connectivity across the City of Logan will boost the local economy for years to come.
The works will get underway after the Queensland Government approved a business case developed by Logan City Council, and committed $2.5 million towards its rollout.
Economic Development Chair, Deputy Mayor Jon Raven, said next-generation digital infrastructure was needed to support a transformation of the city's economy over the next 10 years.
"We now understand the challenges being faced by our residents and businesses in the digital space after completing the business case," Councillor Raven said.
"This investigation assessed what our infrastructure is like suburb-by-suburb so that we could identify where investment is needed most.
"We believe we are among the first local governments in Australia to address these issues through a state government-endorsed business case.
"Connectivity is a mix of accessibility, speed, reliability and affordability. The gaps in the City of Logan are impacting everyday life.
"In 2021 we shouldn't have blackspots in coverage, especially in the booming southern parts of the city around Jimboomba, Yarrabilba and Flagstone."
The works program will include new mobile towers to improve coverage, upgrading satellite services to enhance the NBN network, and installing 80km of fibre cabling throughout the city to replace the prevalent use of copper.
Building an edge data centre within the city to boost connection speeds for City of Logan residents and businesses is a longer-term project in the strategy.
"Logan can't be a modern city unless we have a modern digital network," Cr Raven said.
"Our city is already recognised as the region's logistics hub, but we want to become a powerhouse in health and advanced manufacturing to support our rapidly-growing population.
"The city needs reliable and affordable high-speed connectivity to support strong economic growth, and we also want to embrace new technologies and services to set us up for the future.
"Every resident in Logan deserves to access fast and affordable internet and our businesses need access to high-capacity reliable networks that allow them to compete globally."
Cr Raven said Council would also seek further investment from the Australian Government and the private sector to deliver the new infrastructure.
"We can't do this on our own, but we can certainly be the catalyst for change.
"People expect councils to think about more than roads, rates and rubbish.
"Digital infrastructure is an essential service that needs to be properly planned and funded for us to become a thriving 21st Century city.
"This work is an important step towards better connections to the global economy."
The City of Logan Digital Infrastructure Assessment and Business Case was developed with the support of the Queensland Government.
It was also endorsed as a key priority in the City of Logan Advocacy Strategy 2021-2024.
Return to News List