New look for quarterly rates notices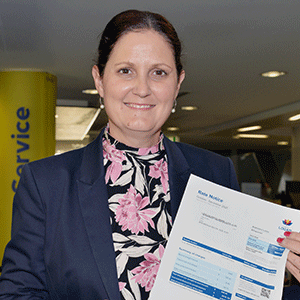 City of Logan ratepayers will notice some differences when they receive their quarterly rates notices this month.
Governance Chair, Councillor Natalie Willcocks said the notices had been redesigned to be simpler to read.
"It's quite a difference to the previous design and people will appreciate the fresh layout," Cr Willcocks said.
"The front page now shows a summary of the charges, while the breakdown of charges and any pensioner remission is now on the second page.
"We've also moved the most common ways to pay to the bottom of the front page."
Cr Willcocks said ratepayers could also choose to go paperless by receiving their notices by email.
"Council's online rates portal is a quick and convenient way to access your rates notice," she said.
"You can securely make payments, request emailed notices, view past payments and notices, see your current balance and add multiple properties to the same account.
"With more than 125,000 rateable properties in the city, Council generates a lot of printing to issue the quarterly rates notices."
To register, ratepayers can visit the portal and fill out the online form. After confirming an activation email, registration will then be complete.
The October-December rates notices will be due for payment on 19 November.
Return to News List