Upgrade begins for animal centre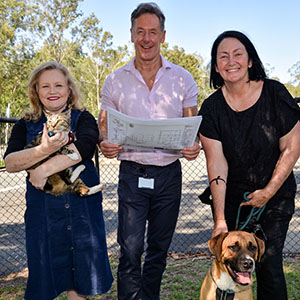 Work has begun on a multi-million-dollar upgrade to Logan City Council's animal management facilities.
Mayor Darren Power, City Lifestyle Chair Councillor Laurie Koranski and Division 2 Councillor Teresa Lane welcomed the start of the $17.5 million redevelopment of the Animal Management Centre (AMC) at Kingston.
The centre has occupied the 2.5 hectare site on Queens Rd since the 1980s.
The redevelopment will be completed in five stages to minimise impact on customers, staff and animals. It is expected to be finished by 2023.
Upgrades include a new central office building and customer service centre along with a new community veterinary clinic.
Improvements also include new animal sales facilities, consisting of a cattery and kennels, which have been designed to enhance animal health and well-being.
There will also be purpose-built pens for dogs in long-term care to provide access to larger grassed areas for increased exercise.
A storage yard for impounded goods and abandoned cars and new customer and staff car parks are also included.
Cr Power said the project was fully funded in the 2019/2020 Budget.
"The redevelopment will deliver the City of Logan a modern and customer focused facility to help maintain Council's position as a leader in animal management and driver of responsible pet ownership for many years to come," he said.
"Council is committed to meeting the needs of a growing city through delivering excellent levels of care to lost and abandoned pets and the new centre will help us achieve that."
Cr Koranski said the AMC would operate on normal hours throughout the redevelopment.
"We will work with the contractor to ensure the redevelopment occurs as seamlessly as possible to allow our day-to-day operations to continue uninterrupted," Cr Koranski said.
"We look forward to the project being completed as the new site will allow Council to further improve our services to customers as the city continues to grow."
Thousands of animals come through the AMC each year.
In the last 12 months, Council has rehomed more than 700 cats and dogs through the successful sales and rehoming program.
Return to News List