Council celebrates tomorrow's leaders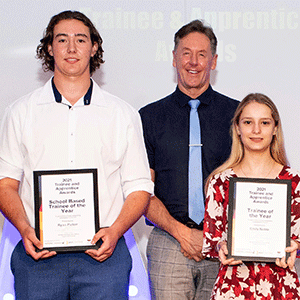 Logan City Council has recognised the next generation of workplace leaders who have participated in three popular youth programs this year.
The achievements of Council's trainees and apprentices were celebrated at the 2021 Trainee and Apprentice Awards, while up-and-coming entrepreneurs and innovators showed their flair for success at a showcase event for the CityStudio Logan and Catapult programs last month.
Mayor Darren Power said the future was bright for the City of Logan's future leaders.
"Council's trainee and apprenticeship program is first-rate," Councillor Power said.
"For many of the participants, it's their first step into the workforce and the skills gained can set them up for a very successful future.
"In addition, the staff who mentor them through their nationally-recognised qualifications are able to build on their leadership qualities and even learn a thing or two in return.
"This year's cohort of trainees and apprentices are wonderful ambassadors for the City of Logan and I'm so pleased we could acknowledge the hard work and effort put in."
Meanwhile, the CityStudio Logan and Catapult showcase highlighted some of the innovative projects developed by local high school students with support from Council, local businesses and other organisations.
Cr Power said the participants had shown a willingness to get their hands dirty, speak up and learn by doing.
"These young people truly are passionate and diverse," he said.
"CityStudio Logan creates pride by addressing city challenges and making an impact, while Catapult focuses on innovation and employment by building networks and abilities for any pathway someone might choose to take.
"I'm sure that we'll hear more about all of the program participants and their successes in the future, and we'll be able to say proudly that it all started with the support of Logan City Council."
The winners of the 2021 Trainee and Apprentice awards are:
Trainee of the Year: Emily Noble (Certificate III Sport and Recreation – Aquatics)
Apprentice of the Year: Jai Storey (Cert III Heavy Commercial Vehicle Mech Tech)
School-based Trainee of the Year: Ryan Picton (Cert II Automotive Underbody Technology)
Leadership Award: Matthew DeGunst (Cert III Civil Construction)
Excellence Award: Alicia Carroll (Cert III Business)
Community First Award: Danielle Fogg (Cert III Business)
Supervisor of the Year: Jason Cullen
Branch of the Year: Road Construction and Maintenance.
The winners of the 2021 CityStudio Logan program are:
First place: Loganlea State High School team, which developed a project to improve the habitat on school grounds and help stop the effects of erosion on the Logan River. The project also included an urban farm to provide food for people in need and an Indigenous food forest.
Second place: Mabel Park State High School team, whose "Green our City" edible garden project was developed in response to increased urban development around the school.
The winners of the 2021 Catapult program are:
First place: The Offroaders team from Beenleigh State High School, a snack van social enterprise to provide support for homeless people.
Second place: The Sea Soap team from Mabel Park State High School, which produced an eco-friendly soap and directed profits to the Ocean Crusaders charity.

Return to News List