Community safety champions honoured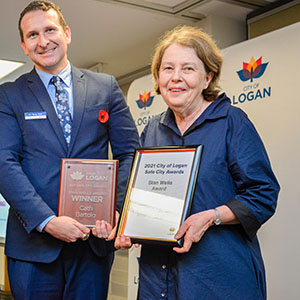 A stalwart of the local community has scooped the prize pool at the City of Logan Safe City Awards 2021.
Youth and Family Service (YFS) Chief Executive Officer Cath Bartolo was yesterday (Thursday, November 11) presented with the Stan Wells Award for 2021 in recognition of her outstanding contribution to community safety.
The annual award honours former Jimboomba Neighbourhood Watch Group area co-ordinator, the late Stan Wells.
City Lifestyle Chair Councillor Laurie Koranski said Ms Bartolo had devoted her life to the City of Logan over the past 30 years.
She first worked locally as a teacher, then as a disability co-ordinator and for the past 17 years Ms Bartolo has been with local community services provider YFS.
She also has extensive experience and contacts in the city's non-government organisation sector.
"It is Cath's voluntary contributions though that have made her a leader of Queensland's community services sector as she has served on a wide range of locally-based organisations over many years," Cr Koranski said.
Cr Koranski also congratulated this year's other winners.
"Everyone has a significant role to play in contributing toward community safety and crime prevention," she said.
"This awards ceremony at Logan Metro Sports and Events Centre recognises and thanks individuals, businesses and volunteers for the great work they do towards making our city even safer."
The winners for 2021 are:
Volunteer category
Winner - Abdul Samim Khan: The Logan Roos Football Club acts as a practical and accessible entry point to the community to address the needs of young people from refugee and migrant backgrounds.
Runner up - St Paul's/Logan Brothers Rugby League Old Boys Association: The old boys provide a safe and welcoming environment to keep young players engaged in sport and away from anti-social behaviour.
Not for profit category
Winner - The 99 Steps Program - Access Community Services: The team at 99 Steps work to support people from culturally and linguistically diverse backgrounds experiencing domestic violence.
Runner-up - Joel Tuita and the Crestmead PCYC Volunteers: They support the development of positive relationships and trust between young people and the police and provide a safe place for the whole community.
Government and business category
Winner - The Tyre Deflation Device project: This partnership between the Queensland Police Service and Logan City Council increases the safety of police officers and the community when tyre deflation devices are deployed to stop offenders driving dangerously.
Joint runner-up - Detective Senior Constable Amanda McLeod: Snr Const McLeod is committed to preventing, disrupting, investigating and responding to domestic and family violence and other harms perpetrated on vulnerable people in the City of Logan.
Joint runner-up - The Logan Youth Co-responder Team: They provide early intervention to young people on the cusp of entering the criminal justice system to reduce youth re-offending and keep children out of the courts and custody.
Return to News List