Bronzed Olympian Ashley Moloney is our Sportsperson of the Year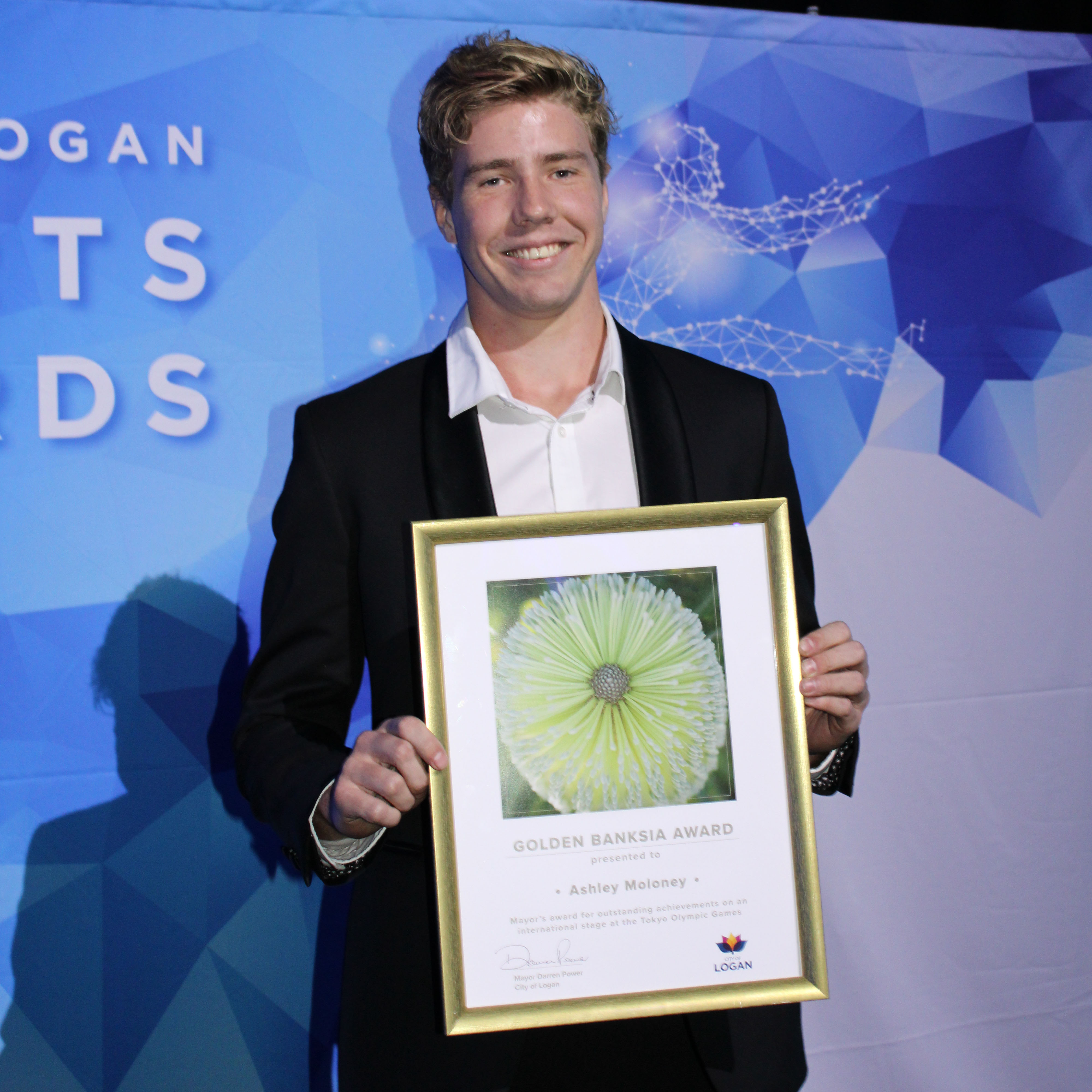 Tokyo Olympics decathlon hero and Jimboomba Little Athletics product Ashley Moloney is the City of Logan's 2021 Sportsperson and Sportsman of the Year.
Moloney was presented with the awards by Mayor Darren Power at last night's City of Logan Sports Awards.
Moloney said he was honoured to receive the recognition in the City where his athletic career began.
"It's hard to put into words… I wasn't expecting it at all, especially two (awards), but I'm stoked," he said.
"Jimboomba Little Athletics was the starting point of my career, I reckon if I didn't go to Jimboomba I wouldn't be a decathlete (because) it's where I started pole vault."
Moloney's gutsy run in the final event of the decathlon, the 1500m, secured him a bronze medal and a place in Australian sporting history as the country's first Olympic decathlon medallist.
"Honestly, my mind was racing (during the 1500m)," Moloney said.
"I thought 'I could lose this', even though I knew I had it.
"That's the scariest thing about decathlon… you could lose it all in literally milliseconds."
Moloney said his advice to aspiring sportspeople in the City of Logan was simple.
"When approaching anything in life, you've got to take the first step… (though) sometimes the first step is the hardest," he said.
Former Logan Brothers junior and NRL legend Cameron Smith was guest speaker at the event held at the Logan Metro Sports & Events Centre.
Smith told the 600-strong gathering it was an honour to return to the City of Logan and be among its talented sporting community.
"It's great to see the strength of the athletes… in Logan City at the moment," Smith said.
"There's so many great athletes not only at club level but through the schooling system as well.
"I've been away from Logan for a long time but… it's really impressive now to be able to come back into the area and see how much it's grown, (and) how much junior sport is thriving."
Also in the audience were Logan-raised Tokyo Olympic gold medallist and BMX freestyle world champion Logan Martin and former Olympic swimmer Jodie Henry.
Smith paid tribute to the Olympians in attendance, who he said were an inspiration to young sportspeople everywhere.
"It's not only myself that was able to live out a dream that I had when I was young," Smith said.
"You look at Logan, and Jodie, and the other great athletes in the room that have been able to live out that dream.
"It's just about believing in yourself (and)… being willing to work hard and make some sacrifices along the way."
Moloney, Martin, swimmer Mollie O'Callaghan and athlete Genevieve Gregson were honoured with Golden Banksia Awards, which are presented to City of Logan residents (or former residents) in recognition of extraordinary achievement on an international stage.
O'Callaghan won multiple relay medals in Tokyo while Gregson competed in the 3000m steeplechase.
Slacks Creek boxer Shannon 'Shotgun' O'Connell was named the 2021 City of Logan Sportswoman of the Year.
O'Connell won a WBA (World Boxing Association) gold title in March and just last month, retained her Commonwealth Female Bantamweight title.
O'Connell is ranked fourth in the world for women's bantamweight boxing.
Councillor Darren Power said the City of Logan's 2021 Sports Awards winners were an inspiration to sportspeople across Australia.
"The City of Logan has a rich sporting heritage, and it is our honour to recognise and pay tribute to the efforts of our sportspeople, and our hardworking clubs," he said.
"Sport plays a vital role in our communities; it teaches our children teamwork and responsibility, and it provides lifelong social connections for people of all ages.
"Each of this year's awards winners deserves not only our congratulations but our thanks for their dedication to sport in the City of Logan."
The winners of the 2021 City of Logan Sports Awards are:
Sports Official of the Year – Aleisha Neumann, Marsden State High School
Sports Administrator of the Year – Brian Roberts, Logan Brothers
Sports Coach of the Year – Edward Dimmack, Logan City Speed Skating Club
Sports Team of the Year – Marsden State High School Rugby League
Sports Event of the Year – Griffith Sport Logan Fun Run
Sports Organisation of the Year – Logan Basketball
Young Sportsman of the Year – Connor Gillen, Muaythai Mulisha
Young Sportswoman of the Year – Losa Niumata, Brisbane North Cougars
Master Sportsperson of the Year – Marion Hermitage, Multisport Gold Triathlon Club
Elite Athlete with a Disability – Andre Rivett, Queensland Athletics
Sportswoman of the Year – Shannon O'Connell, Boxing
Sportsman of the Year – Ashley Moloney
Sportsperson of the Year – Ashley Moloney
Judges' Choice Awards –

Tristram Peters, Football Queensland (category - Elite Athlete with a Disability)
Trudy Bartlett, Marsden State High School (category - Sports Coach of the Year)
Golden Banksia Award winners:
Ashley Moloney – Tokyo Olympics, Athletics - Decathlon (bronze medallist)
Logan Martin – Tokyo Olympics, BMX (gold medallist)
Mollie O'Callaghan – Tokyo Olympics, Swimming (two gold, one bronze in relay events)
Genevieve Gregson – Tokyo Olympics, Athletics (3000m Steeplechase Final)
Return to News List