Generosity the trademark of our Citizen of the Year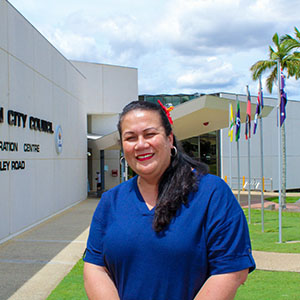 Among the many attributes of the City of Logan's Citizen of the Year is to have made "an outstanding contribution" to the local community.
This year's recipient has made too many to list.
Marsden's Ranandy Stanley was today named the City of Logan 2022 Citizen of the Year.
Ms Stanley was recognised for her significant community outreach efforts as part of the Hope Centre Logan team and for consistently going above and beyond in service to the City of Logan.
Since 2007, she has been central in providing crisis-care and emergency food relief to families in need, as well as working as a cultural liaison for the Samoan community.
Ms Stanley has worked as a hospital and health-care interpreter, helped facilitate local mental health programs and advocated for City of Logan families as a radio presenter on 4EB.
She is also the founder of Qld Samoa Netball and has served as the secretary of the Woodridge State High School P&C since 2018.
In 2019, Ms Stanley launched the Hope Centre's Community Connect Lunch, which aims to link marginalised people with community agencies.
The lunch is prepared by Woodridge State High School students and is a regular meeting of more than 100 people providing important connections to community groups and services.
City of Logan Mayor Darren Power said Ms Stanley's service to the local community was second to none.
"It is an honour to recognise Ms Stanley's incredible community service efforts by naming her our 2022 Citizen of the Year," Cr Power said.
"Ms Stanley is just one individual, but she has had an overwhelming impact on the community she serves."
Crestmead woman Robyn Wilson was also recognised for her outstanding service to the City of Logan today.
Ms Wilson received a Spirit of Logan award for her continuous efforts to shelter those in need at her home, as well as for regularly delivering food in the local area.
She was also recognised for organising several successful fundraisers for local charities over many years.
Mayor Power said Robyn was a deserving recipient of the award.
"The Spirit of Logan award is reserved for those who exemplify the very best qualities of our community," Mayor Power said.
"Robyn's determination and selflessness in caring for other people is inspirational and reflects the proud community service tradition of the City of Logan."
Mayor Power announced the City of Logan's 2022 Australia Day Award winners online this morning. The video can be viewed at 2022 Australia Day Award Winners - YouTube.
Other nominees for the 2022 City of Logan Australia Day Awards included Woodridge State High School community education counsellor Bronwyn Ahsee, MS Society Queensland volunteer Charlie Bennett, community volunteer John Bryant and Diversity with Dance founder Julie Lyons.
Return to News List