Road gangs roll on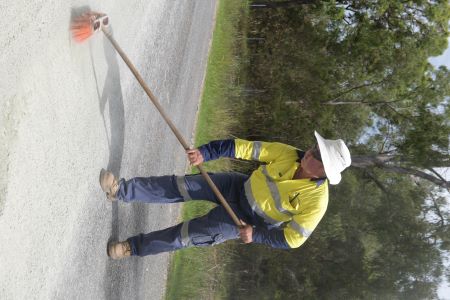 Logan City Council has repaired more than 1000 potholes with 389 sealed and 157 unsealed road locations damaged by extreme weather events since February.
Council received 2305 requests regarding damaged roads arising from the February and May extreme weather events, with 728 relating to potholes.
Infrastructure Chair Councillor Teresa Lane said Council has been working around-the-clock to fix the damage.
"The work of our Roads and Recovery teams has been outstanding but we've still got a long way to go," Cr Lane said.
"Despite challenges including major flooding and a global pandemic, Logan City Council continues to deliver vital infrastructure.
"We're only now just getting a good idea about the extent of the damage and it's enormous.
"Council has found more than 1800 defects across the city's 2200km road network, ranging from small things like cracking and potholes to drainage culverts being completely destroyed."
Council is working with the Queensland Reconstruction Authority to discuss costs and prioritise specific projects.
A new taskforce has also been formed to oversee the repairs and restoration of flooded roads.
"I thank residents for their patience and understand that the full rebuild will take potentially years, not months, to complete," Cr Lane said.
Despite the disruption, the latest quarterly Capital Roadworks and Drainage Program report shows that most scheduled works remain on-time and on-budget.
Total expenditure for the quarter was $70.6 million, only slightly above the budgeted $69.1 million.
Projects in construction or scheduled to commence in upcoming months include:
$26 million – commencement of road works associated with the Chambers Flat Road upgrade between Kenny Rd and Mt Lindsay Hwy
$17.2 million – commencement of stormwater network upgrades for stage 1 to 5 of the Kelly Street catchment in Eagleby
$15.4 million – commencement of stormwater Network upgrades for stages 1 and 2 of the Cowper Avenue catchment in Eagleby
$1.3 million – Completion of stage 2 of the Defiance Road (Woodridge) catchment master drainage project
$300,000 – Rehabilitation of the car park outside Woodhill State School
$9.7 million – Asphalt resurfacing, spray sealing works and pavement rehabilitation at numerous locations complete
$1.7 million ­-­ Kerb and channel and stormwater pit rehabilitation at numerous locations complete.
Potholes can be reported on 34123412 or online.
Return to News List