Superstar Pete Murray 'pumped' for sunset serenade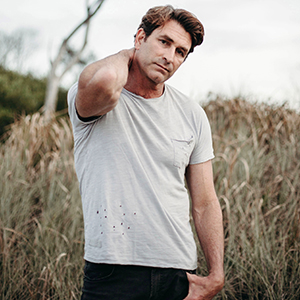 Logan City Council's Kingston Butter Factory (KBF) Cultural Precinct has received a ringing endorsement from Australian music superstar Pete Murray, ahead of the Melting Sunsets music festival.
The So Beautiful singer, who grew up in Queensland and has sold more than 1.2 million albums over his two-decade career, is eagerly anticipating his June 11 performance at the new entertainment venue.
Murray has received 17 ARIA nominations and has had three albums reach No.1 on the ARIA charts.
He encouraged his local fans to join him at the KBF Cultural Precinct for a great night of Australian music.
"The Kingston Butter Factory looks like an amazing place to play a show," Murray said.
"I seriously can't wait to get on stage there with my band in front of my home state crowd.
"I really feel my band is one of the finest in the country so don't miss this show as we are all pumped for this one."
Melting Sunsets will feature a stellar line up of Australian musical talent, including The Whitlams, Good Will Remedy and Alex Lloyd.
Also on the bill is up-and-coming Loganholme songstress Briana Dinsdale, who will perform tracks from her 2021 debut album, Beginnings.
City Lifestyle Chair Councillor Laurie Koranski said Council was thrilled to be welcoming Australian music royalty to the city's new, premier entertainment venue.
"The City of Logan's multi-million-dollar KBF Cultural Precinct was designed for performances just like this one so we cannot wait to see the likes of Pete Murray and The Whitlams take to our great new stage," Cr Koranski said.
"Hosting such iconic Australian performers is a milestone moment for live music fans in our city, who have previously had to travel long distances to see their favourite artists.
"I encourage everyone, but particularly Pete Murray's City of Logan fans, to make the most of this amazing opportunity."
Division 2 Councillor Teresa Lane said the KBF Cultural Precinct is an ideal venue to enjoy quality Australian music.
"Where else would you want to be on a Saturday afternoon, other than right here in our beautiful city, being entertained by some of our country's finest," Cr Lane said.
"I can't wait to see City of Logan residents enjoying what will be another fantastic event at our KBF Cultural Precinct."
Melting Sunsets is from 1pm on Saturday, June 11. The festival is a fully licensed, 18+ event.
The Kingston Butter Factory redevelopment was jointly funded by Logan City Council, the Queensland Government and the Australian Government.
Melting Sunsets will be hosted by Jabba Entertainment and Golden Rule, in partnership with Logan City Council.
Return to News List