Community to cook up connection with cuisine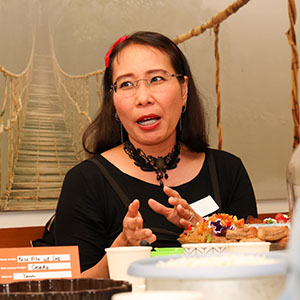 A smorgasbord of cuisine and culture is set to sizzle with Stories from the Kitchen next month.
The Logan City Council initiative is on at Springwood Community Centre on Saturday, February 11 from 5pm to 7.30pm.
Bringing people together from diverse cultural backgrounds to make vital community connections is the aim.
Participants are asked to bring a plate of food from their culture, along with a story to share.
Family and friends are also welcome to the centre at 55 Cinderella Drive, Springwood.
City Lifestyle Chair, Councillor Laurie Koranski, urged locals to cook up a storm, then come and share some food and a yarn.
"With 350,740 people and 234 different cultures in the City of Logan, there is a smorgasbord of food to be shared, stories to be told and connections to be made," Cr Koranski said.
"Whether you're a new or a long-term resident, we invite you to join the upcoming Stories from the Kitchen dinner to meet new people from different cultures.
"This is a chance to connect with a neighbour over a delicious meal and a chat about their culture."
Councillor for Division 1 Lisa Bradley, said sharing a meal was a great way to connect with people.
"Food brings people together and helps to break down barriers between different cultures," Cr Bradley said.
"Stories from the Kitchen is a great way for people to make new friends and share their favourite dish at the same time."
The event is funded by the Queensland Government's Celebrating Multicultural Queensland Program.
To register, visit Eventbrite.
Organisers are also looking for volunteers to help run the event, where they can gain confidence and develop professional and leadership skills for their resume.
Return to News List