Twin courts for Twin Rivers helps croquet soar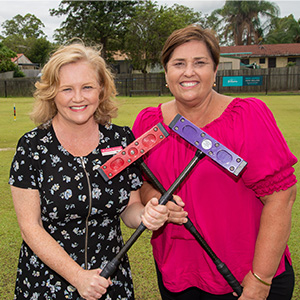 It is a sport that has been quietly growing in the City of Logan, and now croquet is on the brink of an exciting new boom in popularity.
Construction has begun on two new croquet courts, to complement existing facilities, at Twin Rivers Community Mallet Sports Club in Bedford Park at Eagleby.
The project is co-funded by Logan City Council, Division 12 Local Infrastructure funding and a grant through the Queensland Government's Active Game Day program.
The $351,010 development will bring the number of courts at the new facility to four.
Croquet is loosely a cross between golf and lawn bowls where mallets are used to hit balls through small square-topped hoops. It can be played by men and women of all ages.
City Lifestyle Chair, Councillor Laurie Koranski joined Division 12 Councillor Karen Murphy, State Member for Macallister Melissa McMahon MP, Federal member for Forde Bert van Manen and members of the Twin Rivers Community Mallet Sports Club for a sod turning at the facility last week.
Cr Koranski said the expansion project would help deliver more healthy and active sporting options for the local community.
"We know that community sport plays a crucial role in the social and physical wellbeing of residents," she said.
"This expanded facility will provide opportunities for more people to get involved in croquet, which is a fun, low-impact and very social activity."
Division 12 Councillor Karen Murphy said Eagleby had become the home of mallet sports in Logan and croquet had become popular among local residents ranging from high school students to seniors and retirees.
"Building two new courts to double the playing area is a fantastic outcome for the Eagleby community and members of the Twin Rivers Community Mallet Sports Club," Cr Murphy said.
"Once the new courts are completed, I hope to see more residents of all ages picking up a mallet and giving croquet a go. I've tried it and it is so much fun."
Club President Maia McGhee said the additional courts would help create an even stronger connection between the club and the local community.
It will also allow the Twin Rivers to host competitions with other clubs and expand their program of social play.
"Having four courts is a dream come true for our club," she said.
"We can now recruit more members along with hosting gala days and tournaments."
Ms McMahon said the Active Game Day grant was money well spent as every dollar spent in assisting the community become more active helped saved up to $7 that might need to be spent on combatting health issues later in life.
"The Queensland Government is happy to support our active communities and assist groups such as Twin Rivers expand their facilities for existing members and hopefully attract new players with these additional playing courts," she said.
Return to News List