Youth-focused creative projects get funding boost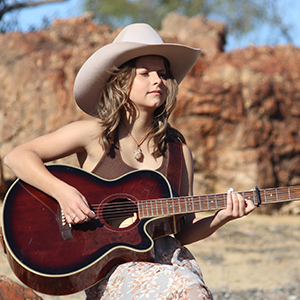 A skills development project for culturally and linguistically diverse young people and a storytelling project about youth mental health are among activities funded by the City of Logan's latest round of arts funding.
Eight creative arts professionals have been awarded $58,218 collectively through the Regional Arts Development Fund (RADF).
They include musician Amy Ryan, who is recording her second EP, the 4K Wave project by the Ethnic Broadcasting Association QLD Ltd (Radio 4EB) and the Queensland Writers Centre's YOUmanity project pilot.
RADF is a partnership between the Queensland Government and Logan City Council to support local arts and culture in regional Queensland.
City Lifestyle Chair, Councillor Laurie Koranski said the funding highlighted the considerable talents of local creatives.
"We are pleased to support them to help bring their different creative endeavours to life," Cr Koranski said.
Grants are available in the areas of dance, music, design, new media, visual arts, writing, theatre, performing arts, museum and cultural heritage.
Funding is delivered in two rounds annually. Applications for the next round will open on Friday, February 17 and close at 2pm on Friday, March 24 for projects beginning on Saturday, July 1.
Cr Koranski urged artists and arts practitioners from all art forms and at all stages of their careers to apply.
To assist with the application process, a free grant funding workshop will be held at Logan Art Gallery on Saturday, February 25 from 2pm to 4pm.
Participants can learn how to find the right grant for their project and write a strong funding application.
Minister for the Arts Leeanne Enoch said as part of this successful, long-term collaboration, the Queensland Government will provide $2.13 million for RADF
2022–2023 to a total of 59 local councils, who will contribute a co-investment amount of more than $1.9 million.
"Established in 1991, RADF is a long-standing success story between the Queensland Government and regional councils, enabling local artists and arts workers to tell their rich and unique stories, boosting regional employment opportunities and other positive economic outcomes", Minister Enoch said.
"For 31 years RADF has provided a legacy of creating new art and cultural experiences for Queensland audiences and communities, and a platform for professional development and growth across the regional arts sector."
This round of successful RADF applicants are:
Park Ridge Connect Inc for local artists to develop photo stories about Logan West's history for the publication of a book later this year.
Musician Amy Ryan to record her second EP which will be launched at Beenleigh Tavern on July 29, supported by City of Logan band Open Season.
Ethnic Broadcasting Association QLD Ltd (Radio 4EB) for the 4K WAVE skills development project for culturally and linguistically diverse young people from Logan to develop skills in broadcasting, podcasting, journalism, music, spoken word and storytelling.
Sally Terare to bring First Nations culture to children in new educational ways through acting, song, dance and art.
Queensland Writers Centre and City of Logan writer Sandra Makaresz for the YOUmanity storytelling project pilot which will publish stories of survival and resilience from a year marked by disruptions that impacted youth mental health.
InterLace Oceania for an exhibition of contemporary lace at Logan Art Gallery from March 17 to April 29, featuring a number of public programs.
John Rodriquez for professional tuition to develop his music writing, piano technique and accompaniment skills and teach uplifting songs to improve participants' mental health.
Sheida Vazir-Zadeh to produce a series of short stories depicting everyday gender discrimination experienced by three generations of Iranian women in her family.
Return to News List