Logan celebrates International Women's Day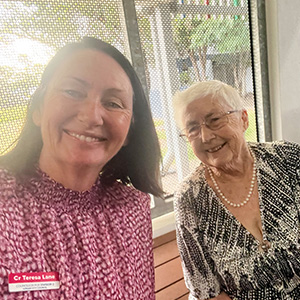 City of Logan residents have come together at a host of local community events to celebrate International Women's Day.
International Women's Day, held annually on March 8, celebrates the achievements of women and puts a spotlight on gender equality.
The 2023 UN Women Australia theme for the day is 'Cracking the Code: Innovation for a gender equal future'.
It aims to highlight the role that bold, transformative ideas, inclusive technologies and accessible education can play in gender equality.
The 'Girls Day Out in STEM' at the Kingston East Neighbourhood Group was one of several events in Logan that embraced the 2023 theme.
The free event engaged young women and girls in science, technology, engineering, and maths (STEM) through a range of activities including a Royal Flying Doctor Service flight simulator, a WING drone demonstration, and presentations from Telstra and NAB on new technological innovations.
City Lifestyle Chair Cr Laurie Koranski, who attended an event hosted by Soroptimist International of Beenleigh, said the 2023 International Women's Day theme is a reminder that more work remains to remove barriers to women and girls pursuing traditionally male-dominated career paths.
"International Women's Day is always a good time to stop and reflect on how far we've come and how far we still have to go when it comes to gender diversity," Cr Koranski said.
"Events like Girls Day Out in STEM are crucial in ensuring we continue to remove those barriers to participation and encourage all women and girls to pursue their passions."
Girls Day Out in STEM event organiser and Women in Technology Board Member Petriea Skitek said the 'Cracking the Code' theme will send a clear message to women and girls that their diversity and uniqueness is what is needed for products, services and opportunities in the future of STEM.
"According to the 2022 STEM Equity Monitor data report, girls, their parents and guardians, teachers and career advisors have single-digit confidence in girls learning STEM skills," Ms Skitek said.
"Our message is for girls, their parents and guardians, and those that support their learning is that STEM is not an exclusive club."
Return to News List