LEAF
4th June 2023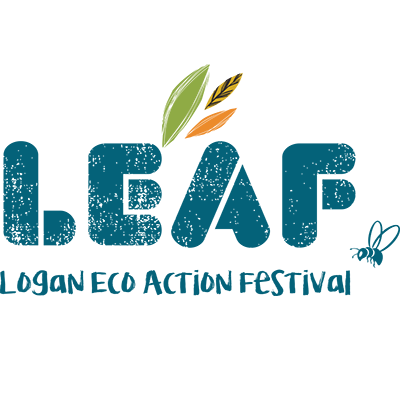 ---
About this event
We are excited to announce the return of the Logan Eco Action Festival (LEAF) on Sunday 4 June, 2023.
LEAF is our community's opportunity to celebrate everything eco while exploring how we can all reduce, reuse and recycle to create a more sustainable world and future.
Learn to make sustainable choices one LEAF at a time. Our main stage and workshops will feature interactive presentations from some of our country's leaders in sustainability, gardening and waste reduction! Plus eco-exhibitors, plant sale, hands-on workshops, eco-markets and fun kids' activities. You'll be sure to take away many big and small tips to live a more sustainable lifestyle!
Entry to LEAF is FREE. Workshop and activities are also free and are on a first come, first in basis. Stocks are limited at some activities.
LEAF is a pet-free and alcohol-free event.
See the full Event program (PDF 316 KB).
Event areas:
Green Lifestyle Zone
There is so much to see in this area
Think Tank Main Stage - hear from the country's leaders in sustainability.
Eco Dome – including free bird-habitat workshops, bushtucker planting workshops, tours of the Arboretum
Tiny homes and van living – tour how you can live off the grid and start a low-impact living lifestyle
Electric vehicles – thinking about buying an electric car, check out the ones we have on offer
Handmade Hub – make a FREE macrame keyring
Solar-powered BBQ – come get a bit to eat from a solar powered BBQ!
Get a discount on your coffee by using one of our reusable cups. Why not go even further eco and get a coffee made entirely on solar-power
Eco Markets
The markets will feature both handmade items and items to improve your sustainable lifestyle. All products and groups will promote introducing a greener way to live.
Wellness Village
Eat some of the amazing food from one of the many vegan food trucks, and vegan alternatives. Chat with animal activist groups and educate yourself on the vegan lifestyle. Take art in the wellness zone with a cacao ceremony, sound bowl healing and acoustic music.
Wellness Tent – make sure to stop in and take part in the free wellness workshops including soundbowl healing, meditation, cacao ceremonies and tea-blending worshops.
Meditation for kids – get your kids to take it down a level or two and learn how to meditate.
Kids Zone
This all-action kids zone will be packed with live shows, workshops, rides and more!
Kids free activities – dreamtime sock puppet making, Bush Kindy, tomato planting
Kids free rides – take part in the free giant slide or rock-climbing wall
Kids stage – a day PACKED full of entertainment including meeting a dinosaur up close or the famous Recycleman!
Kids entertainment – make sure to grab a snap with the roving bubble artist and stilt walkers!
Circular Economy Hub
Get away from fast-fashion and opt for sustainable clothing fabrics and pre-loved items. Looking for a new project? Get inspired with furniture upcycling to give your furniture a new lease on life.
Rummage loop – rummage through small community stalls at awesome pre-loved clothing, bric-a-brac, books and even some small plants
Eco Mini Talks Stage - hear from a huge variety of speakers across lots of topics within sustainability and lifestyle. Find out how you can lessen your environmental impact and live more holistically
Grab a bargain with two charity shops and Circonomy selling amazing, pre-loved items.
Bring in your own pre-loved items and pop them into our drive-thru 'Donation Station' on University Drive
Sustainability Street
This street is filled with community groups with great knowledge for each of their sectors. Give to a charity, or find out how you can sign up to also make a difference. Don't forget to visit the Native Plant sale for mega discounts on awesome plants.
Getting there:
By car – There's plenty of parking at Griffith! Pop Griffith University, Meadowbrook into your GPS. Our parking attendants will show you the closest carpark.
By train or bus – Take our free shuttle bus running from Loganlea Station (Station Road side) to the event. Bus will run on a continuous loop 10:00m to 2:00pm.
By bike – There's a bike rack right next to the event entry. Cycle on over!
For more information email us at Council@logan.qld.gov.au or call us on (07) 3412 3412.
Categories: Free - Meadowbrook - What's on - Featured Events
---
Still looking?
Search for other events...